Vuoi imparare l'italiano? Do you want to learn Italian? Or want to improve existing language skills? We've some tips to help you learn. You may know that most teachers separate the four key skills of learning a language into listening and reading – the receptive skills, and writing and speaking – the productive skills.
Many adults start their language-learning journey with only a couple of these skills, and quickly lose confidence because they struggle with a skill that they've never practiced. For example, at school, people concentrate on writing and reading, but struggle to have a conversation.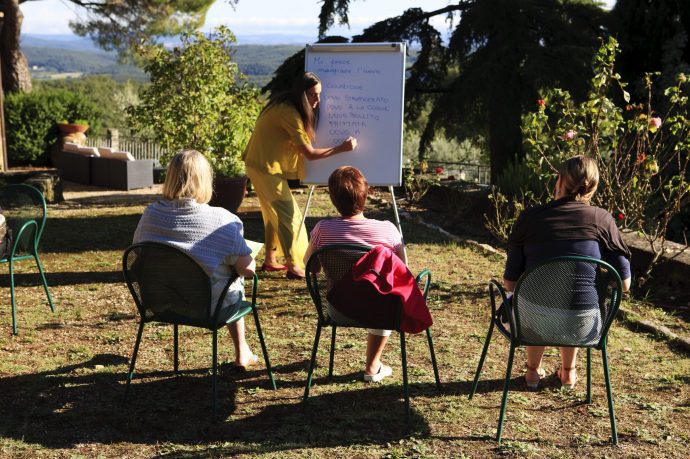 On a Flavours language course, our experienced tutors are native Italian speakers who are passionate about the Italian language, customs, and culture. They tell us that Flavours guests learn and improve quickly in the setting of a group holiday immersed in Italian culture, for various reasons. The groups are small, so we can cater for individual levels, welcoming beginners as well as advanced Italian speakers. We cover all the skills, writing, reading and heading out into the real world to speak and listen. We also advocate popular aperitivo chat sessions at the end of the day to speak Italian over a lovely glass of vino! But the real reason our language holidays are so effective is enjoyment and immersion – you have lessons over a whole week in a beautiful setting with plenty of opportunities to practise what you've learned. That may be ordering in shops and restaurants, chatting in Italian to fellow guests, or simply repeating phrases to yourself while doing breaststroke up and down the villa pool. It's a long way from turning up at a cold UK classroom one evening week, trying to remember what you learned the week before.
Here's some tips on how to practise all four key skills, while on your holiday and back at home.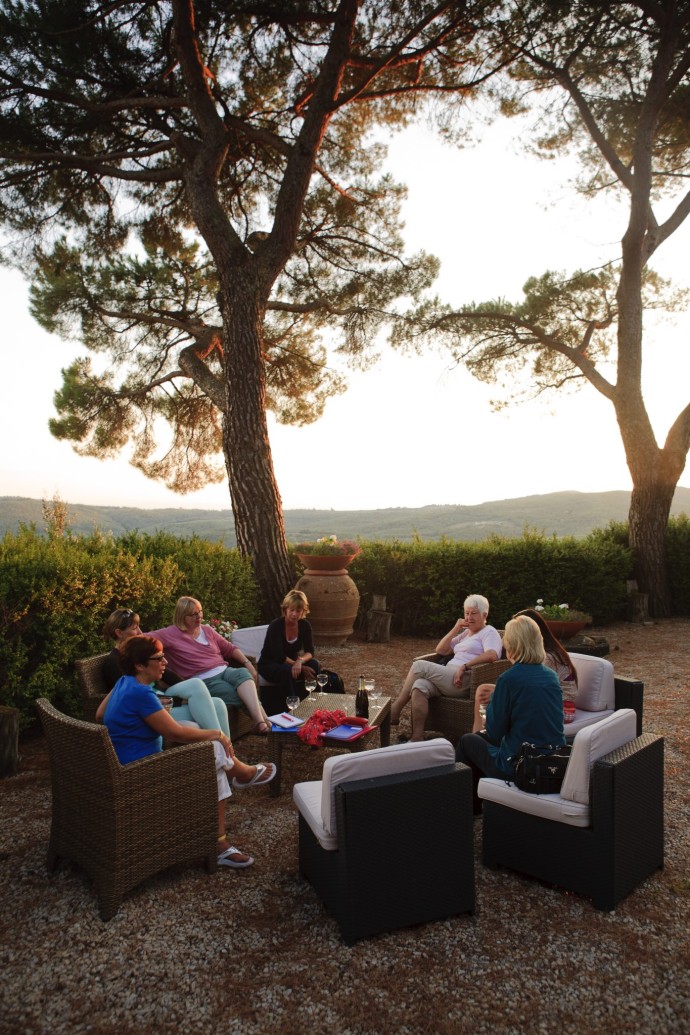 Ways to practise speaking Italian:
Be Confident
The number one skill here is confidence. Remember, no-one minds if you get it wrong – and you will make mistakes, everyone does. Italians will be pleased you've attempted to speak their language. While in Italy, head into any shop, practise what you want to ask just before you go in – enter, and take the verbal plunge! Don't let yourself lapse into English.
Become Italian straight away
Try to stop translating from English in your head. This will take time, but if you consciously try not to do it the Italian will come more fluently.
Speak to yourself in Italian
Speak to yourself out loud in Italian. You may feel a bit mad, but it definitely helps.
Talking all the time
Chat, chat, chat. This is why our group courses are so good – resist the temptation to fall back into English and take every opportunity to speak Italian to your fellow Flavours language students. Once back at home, try and find someone you can speak to in Italian. Head to a nearby Italian restaurant and chat to the waiters if you're struggling!
Read Italian
Read aloud and repeat recorded phrases, concentrating on pronunciation. Try and read an article or short piece of writing fluently, even if you don't understand it all. Then check anything you don't understand and read it aloud again. Repeat a few times.
Record yourself
Record yourself speaking and listen back to try and see what your own strengths and weaknesses are. Smart phones are great for this.
Listen to Italian songs
Find an Italian song and sing along, concentrating on getting the pronunciation right. If you're tone-deaf, tell anyone in your household to invest in earplugs, or choose an Italian poem instead!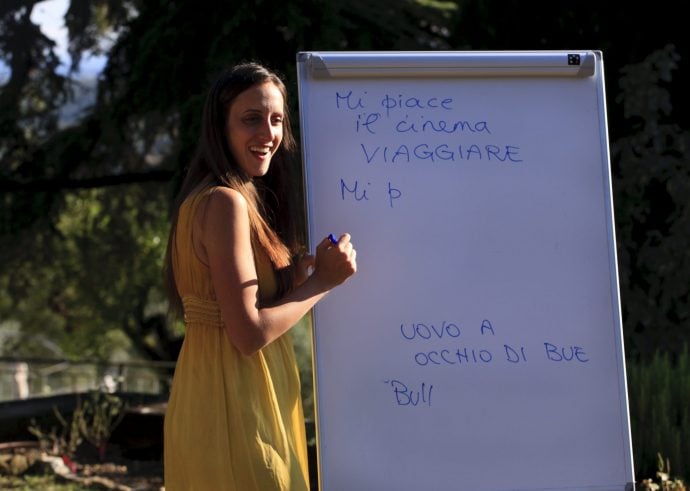 Ways to practise listening to Italian:
Watch shows
Watch a familiar film or TV show dubbed into Italian, really trying to listen to where each word stops and starts. And watch it more than once – picking a film or series you like helps here. Try and make your listening active, rather than just letting the language wash over you.
Listen to books
Listen to audio books in Italian, while reading along on the page. Again, choose something you like. Boredom doesn't help you learn.
Look at videos
Look up YouTube videos in Italian, and listen carefully, trying to gauge the context by what's going on.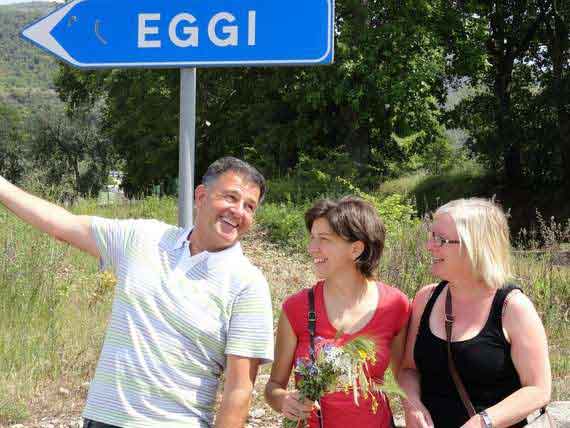 Ways to practise reading Italian:
Head outside in Italy
On our courses, there's plenty of opportunity to practise reading Italian, as we head out into the beautiful surrounds of either Amalfi or Tuscany, where Flavours Italian language holidays are set. Simply reading menus, signs, or leaflets with your teacher at hand to translate, can really help.
Find interesting articles
Choose short sections of text that interest you, for reading practise, for example a news article, blog, or short story. Read it several times, engaging your brain actively. Wait until the end to look words up, resisting the urge to stop-start all the way through to do this. If necessary, jot down words you're not sure about as you read. With practice, you'll guess meanings from the context, as you do in English.
Listen while reading a book
As with the listening practise, listen to an audio book, or short story, while reading the text on a page. This will help with pronunciation and fluency. Again, wait until the end to look things up.
Read a book
Starting with a translation of one you know in English, to help with context and understanding words you don't know. The internet has made it a cinch to buy foreign texts. Start with children's books if you're daunted by a novel.
Use Apps
Set apps on your phone or computer to Italian, eg Facebook. It's probably familiar enough to you to know what the words mean.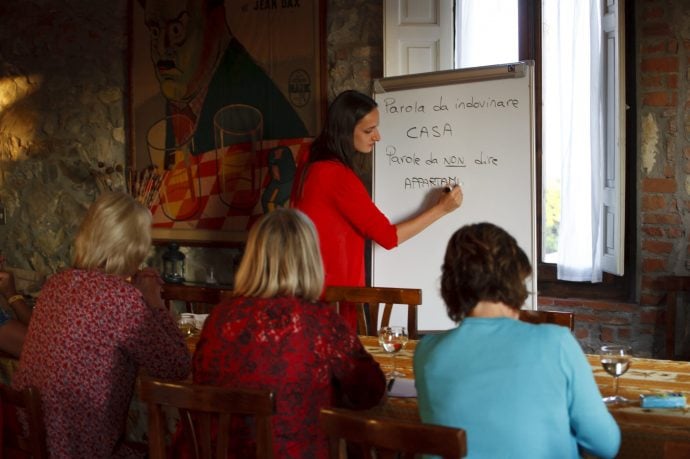 Ways to practise writing Italian:
Write a letter
Try writing to someone in Italian – maybe start with a postcard, and move on to a letter or email, with detail about subjects that you are learning about in Italian. A fake letter will do!
Ask others to help correct your writing
Ask a teacher or other fluent Italian speaker to go through your written work with you, identifying any errors.
Look up words you don't know after writing
Invest in a good dictionary. But while writing, don't keep stopping to look up words. If you don't know a word, write it down and look it up later. It's best to get the flow and structure going smoothly, then you can brush up on vocabulary later.
Write in a jotter
Invest in a jotter and write something down in Italian every day – set a trigger, eg, whenever you have a cup of tea or coffee, write a sentence down.
Write shopping list in Italian
Replace items in your shopping list or to-do list with Italian words.
Use flash cards
Write out useful phrases, and basic grammar, including verbs, on flash cards, and ask someone to test you every day or so. When you've learned one set, make another.
Do it all yourself
Avoid Google translate! It's not always your friend.
Flavours Holidays have activity trips to Italy to learn the language in Amalfi, Bologna, Sicily and Tuscany. Where will you choose?