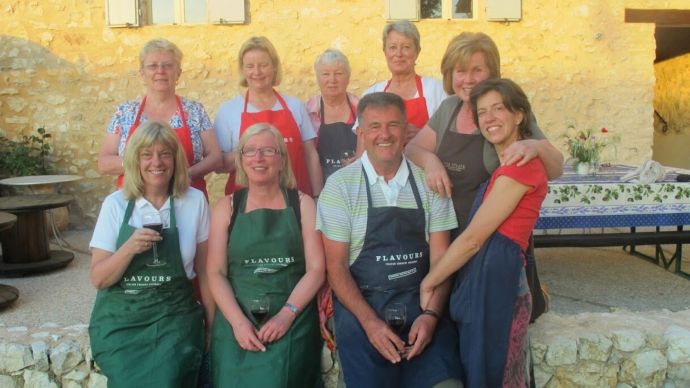 If your friends, family or partner don't share your interest in travel, you don't have to give up your dreams of seeing the sights. Read on to find out why group holidays are a great way to be exposed to new things; be it places, skills or people.
While the idea of solo travelling within a group might seem intimidating, these types of holidays for single travellers are becoming ever-more popular. As many as 70% of Flavours Holidays guests attend our trips alone, so there are plenty of people in the same boat. We design our holidays with a mix of classes lead by our friendly tutors, excursions and communal dinners with plenty of authentic food and wine – alongside time for yourself. Our guests leave feeling refreshed and full of life – so, what's stopping you? Here's why everyone should try solo travelling holidays, at least once!
1. Solo travelling broadens the mind
Solo traveller group holidays broaden the mind in so many senses. They encourage you to meet new people from all walks of life, improve social skills and give you the confidence to make friends with those that you might not meet in your normal routine. These types of holidays also encourage you to see more of the world, and when travelling with a knowledgeable guide there's the added benefit of learning more about different cultures, architecture and history. With the help of a trained tutor, learning a new skill whether it be a language or creative pursuit, suddenly takes on new meaning as they help you to expand your understanding and abilities.
If you are looking for a holiday that isn't too far away from home, we've got you! We have Scottish activity holidays available this summer for you to experience!
2. It allows for personal discovery
In our experience, one of the driving factors behind solo travel for women is persona growth. Learning to spend time alone, getting outside of your comfort zone and building confidence with new people are all themes that come up when speaking to our guests. Taking a trip by yourself isn't just about the external journey, getting from A to B; it's also a voyage of personal discovery. You'll find out what really makes you tick, overcome your fears and get a deeper sense of what truly makes you happy. We find many people return home with a new-found sense of self love which can go on to benefit them in different areas of life.
3. Travel is ageless
The brilliant thing about travel is that it can always teach you something new – no matter your age. Those who are more mature and feel they've lived a life will still have fun learning during an adventure to somewhere new. Indeed, travelling provides an education about the world that cannot be discovered from textbooks. Whatever your stage of life, special experiences such as looking on a century's-old building or gleaming coastline can put everything into perspective. It's a grounding feeling and can even help you to feel younger than you are.
4. Practise people skills
Travelling alone or in a group will encourage you to break down the barriers you might feel when talking to new acquaintances. Travellers are one big community and you'll be surprised at how easy it is to make new friends. Even if you're an introvert, group holidays for single people are great for introducing you to people, especially if based around an activity or passion. With a shared interest connecting you, it's easier to find common ground.
Do you need to be the most confident person in the world to do this? Absolutely not. We use hosts on our holidays who are skilled at bringing people together and ensure that everyone feels welcome and comfortable. As many of our guests are come along alone, we've found that this helps the group connect.
5. Live in the moment
Wouldn't we all like to feel more present? Well, on a group holiday arranged by someone else, you can be. We take care to organise every aspect of the itinerary for our guests and share the details in advance so that you can relax, knowing everything from the food to sight-seeing is pre-arranged and there's nothing left to pay for. We have loved receiving feedback from returning guests who say that this is one of the main reasons for coming back to Flavours; knowing that they can take a break from daily life and enjoy every moment, without having to worry about anything.
6. A sense of achievement
Taking the plunge and travelling solo is a huge achievement – so well done to you for even considering it! For many, it's a big step outside of what feels comfortable, but veering off the well-trodden path can have huge benefits. Joining a solo traveller group trip is perfect for those who are new to the idea, as it provides a structure, support and all safety measures are taken care of – while still allowing you to be brave and do something out of the ordinary.
Coming back from a trip away with new people, working with new tutors and exploring somewhere previously unknown is sure to give you a rush and is worthy of a big pat on the back.
7. Get your confidence to travel back
The pandemic has been a difficult time for all of us but even those unaffected by illness will still have experienced the effects of isolation, staying in and not having the opportunity to go out and see new things. It's possible that after two years of little-to-no holidays, travel might now feel a bit out of your comfort zone. A guided group holiday can help you regain that confidence in a number of ways.
For example, Flavours ensures that all guests receive a personal service before the holiday starts so that if any issues or worries arise, they can be spoken through with a real person (no automated responses or voicemails!). We also offer video call travel clinics before the trip to check-in with the group and say hello.
Read what our Amici have to say about our group holidays…
Amici stands for 'friends' in Italian. Our Amici are our solo travellers that have travelled with us. We asked them to share their experiences with us as a first time solo traveller.
Karen tells us "I first travelled with Flavours in 2011 to Sicily for a cooking holiday. Since then, I have enjoyed amazing experiences in Tuscany, Amalfi, Andalusia and Puglia; the last 3 being Pilates trips. The Flavours Team are always well organised & the various locations are exemplary! Can't wait for my next solo venture in June"
Jenni explains her experience "It was my first solo trip after losing my husband. Cookery in Tuscany. What could be better! Stunning villa, everything well organised and such a lovely crowd. It might have been my first but won't be my last."
Planning on a group holiday this year?
We're happy for guests to re-arrange their trip for a different time before the end of 2022 at no additional cost. Plus, if arranging a whole holiday by yourself or committing to travel in uncertain times feels too much, it can be comforting to know that our travel company has everything in hand.
Originally uploaded 8 June 2016 | Updated 25 March 2022