Pilates Holidays in Puglia
Together with our highly trained Pilates instructors, we have put together an active yet relaxing itinerary for our Pilates retreats in Puglia. With tailor-made classes that will match individual needs, our lessons will suit guests of all levels and abilities.  All of our instructors are experts in the Body Control technique – a method of Pilates that focuses on your core – from toning your body to combating back problems, it is suitable for any age or ability. We supply the Pilates equipment, so the only thing you need to bring is suitable and comfortable clothing for the course. To read more about our inspiring instructors, click here
Sights to savour along with the turquoise sea and long sandy beaches of Puglia include the handsome Baroque cathedral in Otranto, with a mosaic floor to rival Ravenna, and the city of Lecce's more than 40 churches and a noble palazzo built in the 17th and 18th centuries. South of Lecce, the landscape flattens and the sky opens out.  Acres of olive groves and vineyards extend between dry-stone walls.  The coastline of turquoise sea and red cliffs combine to form a dramatic backdrop – the perfect spot for a week to relax, rejuvenate and improve your Pilates .
Lovely Pilates teacher and super chef. They were both kind, fun and made the holiday most enjoyable. Certainly the whole group got on really well and it was a great holiday.
Our Pilates guests stay in Villa Leuca which has been lovingly restored maintaining the traditional Trulli style throughout. This stunning villa situated on the cliffside with sea views where the Adriatic meets the Ionian sea, is a true haven for all to enjoy the Puglia sunshine. Whether you are enjoying your dinner al Fresco or swimming in the pool you are surrounded by sea views. The garden boasts Olive and palm trees with lots of shaded areas to enjoy the picturesque surroundings at all times of the day.
Your Holiday Price Includes:
10 pilates lessons with our experienced tutors.
Options for 2 cooking lessons.
Private, en-suite accommodation in our beautiful Puglian villa.
Visits to local towns such as Lecce
All meals and wine, including 2 meals at a local restaurant.
Private transport throughout stay.
Group airport transfers*
No single supplement
* Provided you are able to meet them. Please ask for transfer times.
Dates for 2024
Reserve your holiday by paying a deposit of £599 today.
Pilates Holiday in Puglia - Itinerary
---
Day 1 (Saturday) - Benvenuti! Arrival in Puglia and group transfer to villa.
Our Flavours group transfer will meet you at Brindisi Airport and take you to your beautiful villa for some welcome drinks and aperetivi. You will meet your instructor, host, and chef. Dinner this evening is at the villa, prepared by your chef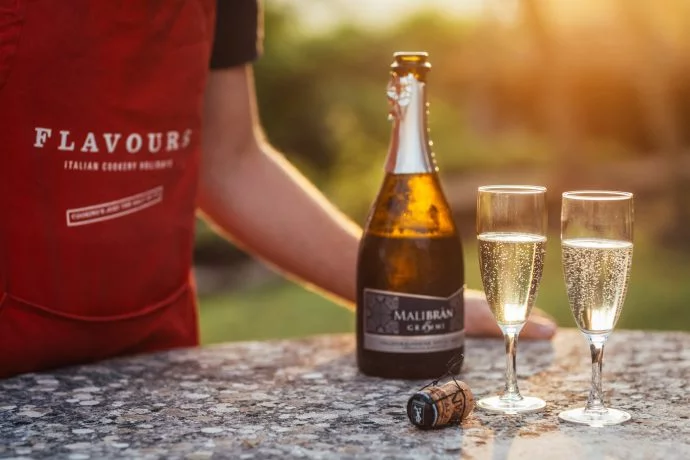 ---
Day 2 (Sunday) - Morning Pilates lesson and boat trip around the Salento coastline.
This morning you will have another Pilates lesson followed by breakfast. This morning, (weather dependent) you will explore the Salento coastline by boat. Return to the villa for lunch, Today you have the chance to relax in the villa or take advantage of the swimming pool before your evening Pilates lesson. Dinner will take place at the villa this evening.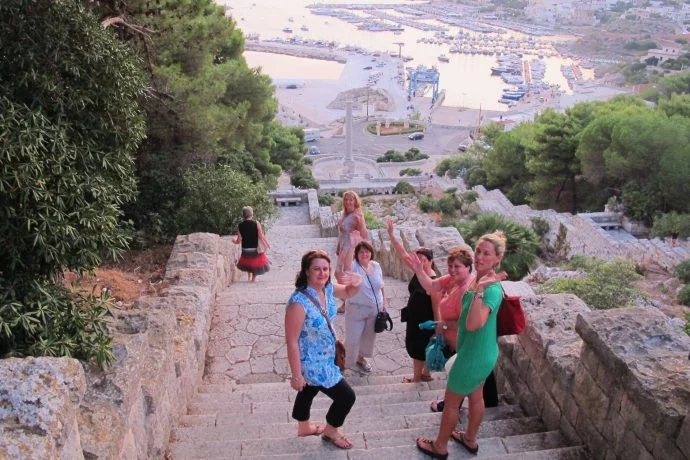 ---
Day 3 (Monday) - Morning Pilates followed by a visit to local artisians
Begin the day with energizing morning Pilates. During the course of the day, your Pilates teacher schedules a brief one-to-one chat with each guest to go through your Pilates form in detail and discuss your individual needs for the week. Today, you will have a visit to local artisans then return to the villa for lunch followed by your afternoon Pilates lesson, dinner will be at the villa.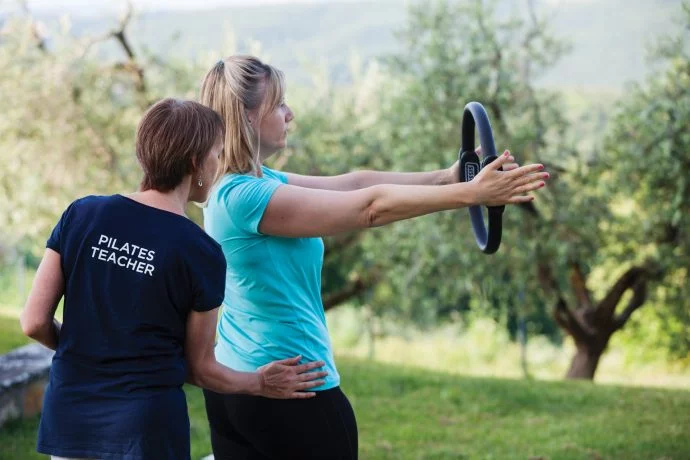 ---
Day 4 (Tuesday) - Morning Pilates followed by your first cooking lesson
Begin the day with energising morning Pilates. After breakfast, you will join your chef in the kitchen for a cooking lesson and then enjoy lunch with the group. You will enjoy an afternoon Pilates lesson and then you'll have the option to book in for a massage. Dinner will take place at the villa this evening.
---
Day 5 (Wednesday) - Pilates before breakfast and sightseeing in Lecce
Start the day with an energizing Pilates lesson before breakfast and then a day of sightseeing. We will visit Lecce to enjoy a walking tour around the "Florence of the South". This undiscovered gem hides a wealth of beautiful architecture – it's even known as the Pearl of the Baroque. You'll have time for some more sightseeing (don't miss the Roman Amphitheatre or the Basilica di Santa Croce) and some shopping. Dinner this evening will be at the villa.
---
Day 6 (Thursday) - Pilates followed by a local market visit and dinner at a local trattoria
Begin the day with morning Pilates, this morning, visit a local market, wander around the old town, and return to the villa for lunch, and dinner will be in a local trattoria.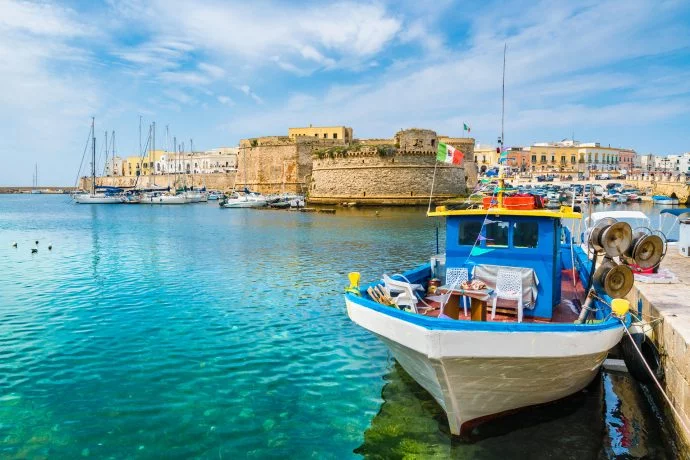 ---
Day 7 (Friday) - Final Pilates lesson with farewell dinner at villa.
After the morning Pilates lesson, spend the morning in the villa, enjoying your last day in Puglia with a final cooking lesson followed by the chance to book for a massage. Later in the afternoon, you'll have some time with your teacher for the last Pilates session. This evening, a special farewell dinner will be prepared for you at the villa.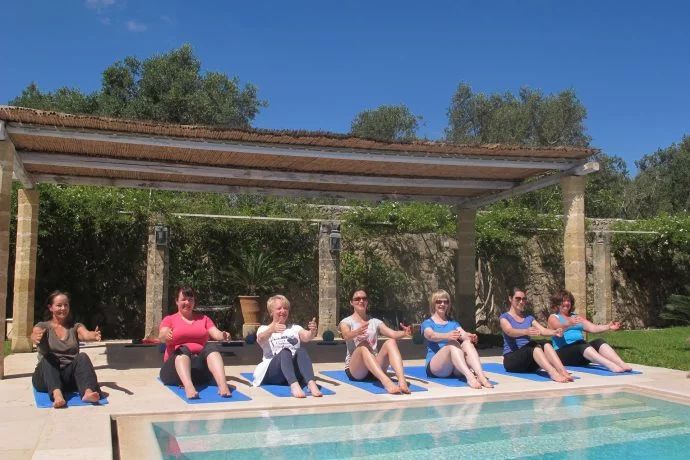 ---
Day 8 (Saturday) - Transfer to airport! Arrivederci!
You have an early departure this morning, so after breakfast, the transfer will collect you and take you back to Brindisi airport for your flight home. Arrivederci!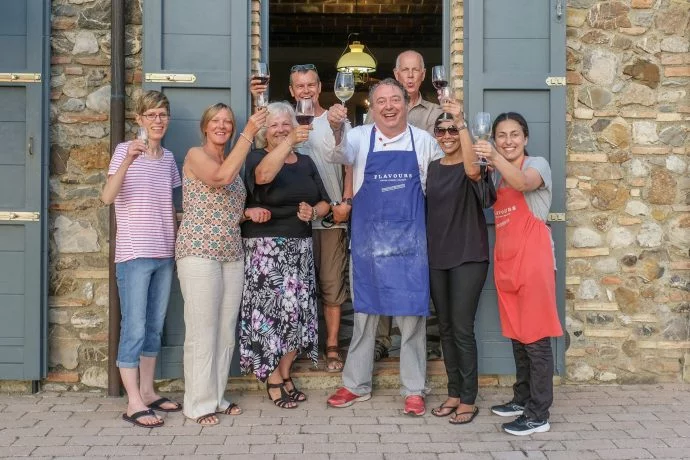 ---
No Single Supplement
A room to yourself. We never charge a single room supplement.
Solo Traveller Friendly
Over 70% of our guests travel solo taking advantage of our no single supplement policy.
Travel Information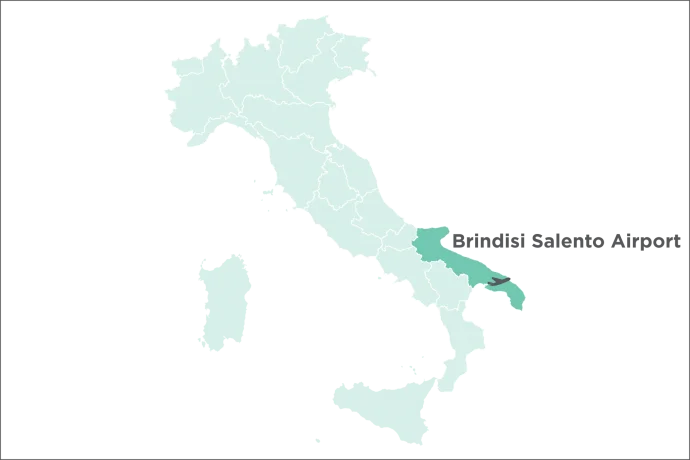 Please note: transfer times are subject to change so please get in touch before booking your flight to ensure the timings work with the complimentary group transfer between Brindisi Salento Airport and your villa.
Download Our Holiday Brochure
Our brochure includes detailed holiday itineraries, dates and prices, experiences shared by fellow travellers, profiles of our team in Italy, and travel tips.
Click Here to Download Now »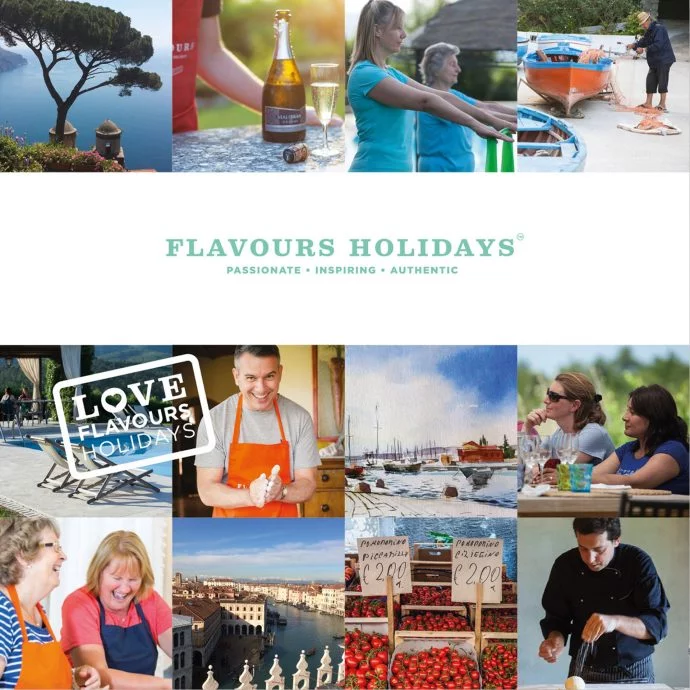 If you might be interested in activities other than Pilates, you can find out more about the Painting, Cooking and Photography activity holidays that we offer in Puglia.
All your questions answered
For more information about Flavours Holidays: