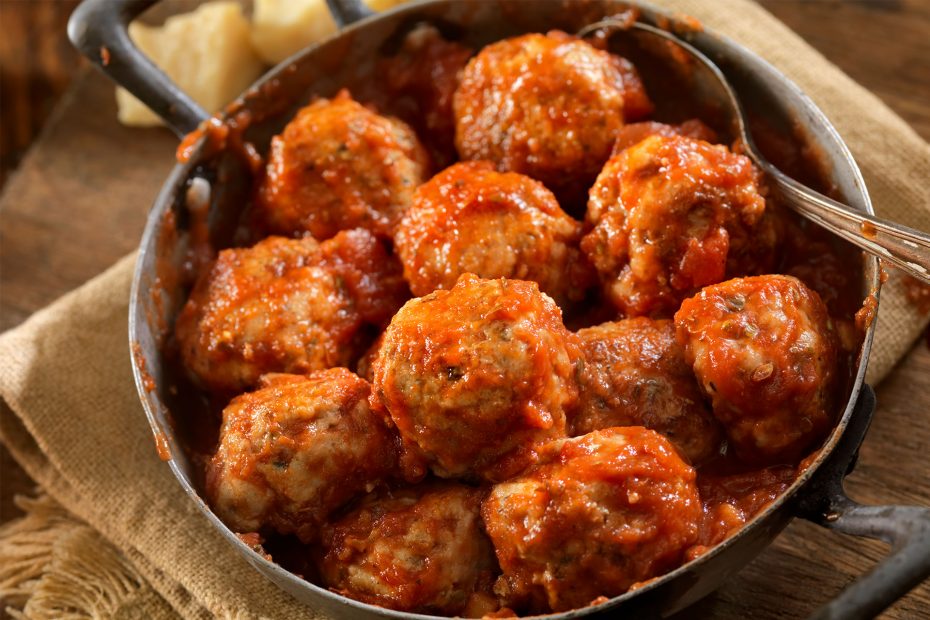 An Italian classic loved around the world, meatballs – known as polpette – are an easy dish that can be used as part of a more traditional meal, such as spaghetti and meatballs, or put on a sandwich as an Italian-American take! Slowly simmered in a rich tomato sauce, these meatballs are incredibly flavourful and are sure to become one of your regular favourites!
A truly homely meal, polpette are a great comfort food for the winter months, and can easily be prepared ahead of time to have for dinner as a mid-week warm up! This meatball recipe also includes your choice of Italian cheese as one of the main ingredients, making them even more indulgent and incredibly more-ish.


Learn how to make this recipe and other authentic Italian dishes by joining one of our online cooking classes!
Serves: 4
Preparation Time: 25 mins
Cooking Time: 1 hr
Ingredients:
½ kg beef or pork mince
2 eggs
100g breadcrumbs
100g grated pecorino, grana padano or parmigiana
700ml tomato passata (store bought or make your own!)
½ small onion
Milk
Parsley
Salt & pepper (to taste)
Olive oil
Seed oil
Instructions:
Place minced meat in a bowl and add 2 eggs, the cheese and breadcrumbs, along with parsley, and salt & pepper to taste.

Add a splash of milk and use your hands to knead the ingredients together. Add milk to moisten as required.

Mix until ingredients are evenly distributed throughout the mince.

Take small amounts of the mixture and roll between your palms to create the meatballs.

Place a pot on your stove and add olive oil and chopped onion. Allow the onion to soften a little bit before adding the passata. Reduce heat and leave to simmer.

Take a deep frying pan and pour in seed oil. Once the oil is hot, place your meatballs in the oil, making sure they're mostly covered.

Regularly turn the meatballs to ensure they're cooking evenly and allow to brown.

Once browned, remove the meatballs from the oil and place in a bowl lined with paper towel to drain the oil.

Transfer the meatballs into the simmering tomato sauce and mix together.

Serve with crusty Italian bread on the side!
Watch the video below to see our chef, Pina, demonstrating her recipe for the best Italian meatballs. Buon Appetito!