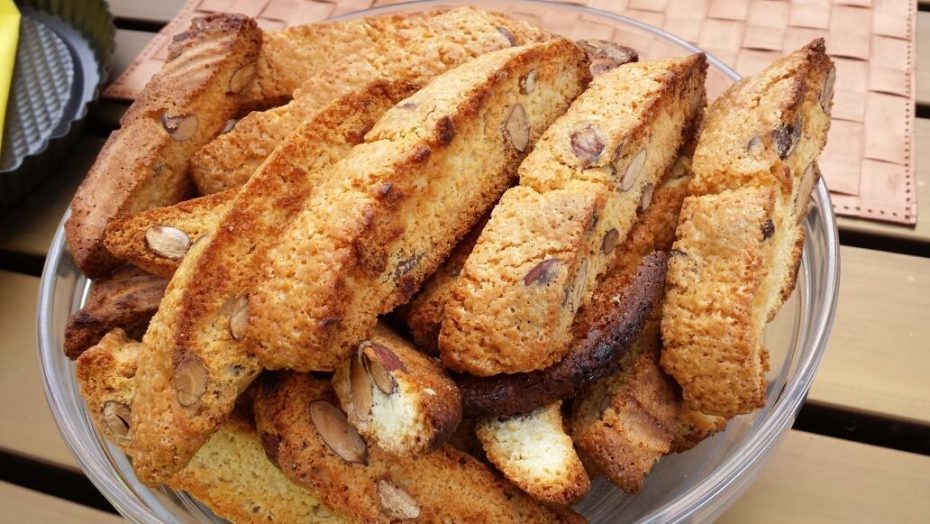 This blog was originally posted on 15th December 2017 and was updated on 22nd October 2020.
Cantuccini, also known as biscotti, are almond biscuits originally from Prato in Tuscany. These traditional biscuits are often served with a dessert wine, such as Vin Santo, or with espresso. As they are twice-baked, these biscuits are quite dry and hard, so it's common for them to be dipped in the dessert wine.
They're an easy treat for Christmas time, as they're quick and easy to make, and you can make them extra festive by adding chocolate chips, hazelnuts, pistachios or dried fruits. They look lovely wrapped up in cellophane as a homemade Christmas gift.


Love cooking Italian food? Check out our online Italian cooking classes to learn more delicious and authentic Italian recipes with our chefs!
Serves: 4
Preparation Time: 30 mins
Cooking Time: 30 mins
Ingredients:
350g plain white flour
350g caster sugar
3 eggs
160g chopped almonds
16g baking powder with vanilla (if you can't find this, add in a drop of vanilla extract)
salt
Instructions:
Heap the flour and sugar together on a wooden board and mix well. Make a well in the middle.

Add 3 eggs to the well with a pinch of salt. Using a fork, mix the eggs in the middle slowly, adding the flour and sugar around the edges.

Add the baking powder and continue to mix together until a dough starts to form. Then start kneading with your hands.

Chop almonds quite finely and add to mixture. Add extra flour to stop the dough sticking to the board if necessary.

Form the dough into a log shape and slice into 6 equal pieces. Roll and flatten the pieces to form strips 3 fingers wide and 1 finger high. Line an ovenproof dish with greaseproof paper and place the strips in the dish, a good distance apart from each other.

Cover the dish and leave at room temp for 30mins. Once rested, brush each piece with egg and bake at 180°C. After 30 minutes, remove from the oven and slice into diagonal pieces then spread the pieces and put back in the oven for 15 minutes at 190°C. Cantucci are biscotti, which literally means cooked twice.

These biscuits are great dipped in sweet dessert wine (Vin Santo), or you can try them with coffee or tea.