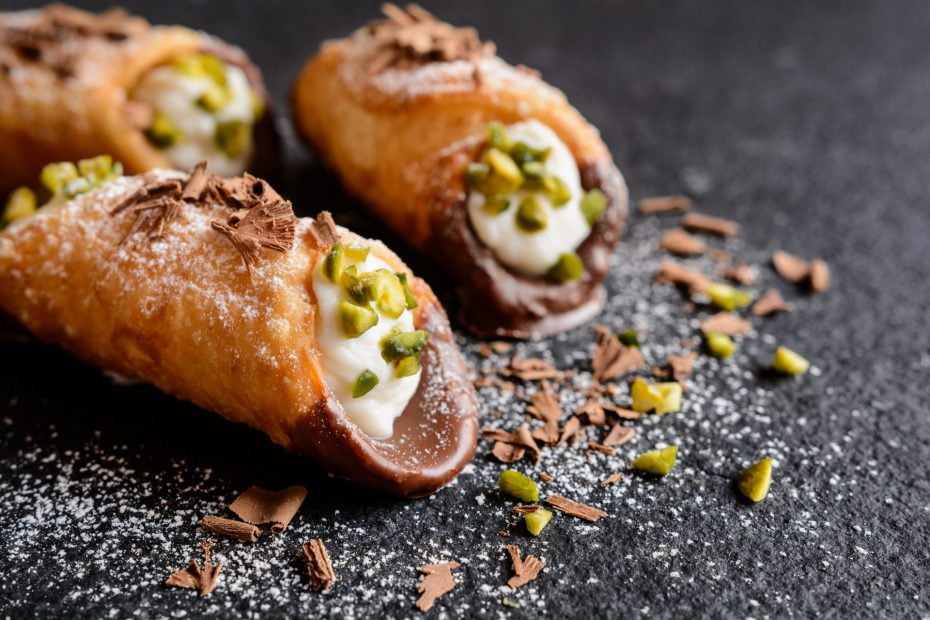 Cannoli di Ricotta are a classic Italian pastry, originally from Sicily. In mainland Italy, they are also often called cannoli siciliani. Cannoli actually translates as 'little tube', which is an apt description as they are, essentially, a tube of pastry filled with a rich ricotta. This decadent dessert may look intimidating, but cannoli are actually deceivingly simple to make!
The combination of the crispy outer shell and the soft, creamy filling is sure to please. In this recipe, we include chocolate chips and pistachios in the filling for an extra decadent cannoli, but you can replace this with glace cherries or dried fruits if you prefer. Bursting with flavour, cannoli are the perfect Italian dessert to impress your family and friends with!

Learn to make cannoli and other authentic Sicilian meals in our online cooking classes. Find your perfect class here.
Serves: 6
Preparation Time: 1 hr
Cooking Time: 15 mins
Ingredients:
For the cannoli:
250 g 00 flour
25g butter
25g caster sugar
Dry marsala (approximately 60ml)
1 egg (lightly beaten)
Vegetable oil (for frying)
For the filling:
1kg ricotta (traditionally sheep's milk)
300g icing sugar
Chocolate chips, to taste
Ground pistachio, to taste
Instructions:
Pass the ricotta through a sieve, to make it thin and soft.

Mix sugar through the ricotta, and pass this mixture through the sieve again. It will now be a cream-like consistency.

Mix chocolate drops through the ricotta, then cover with cling film and leave to rest in the fridge for a few hours

To make the dough, we first take the 00 flour and place it on a board. Mix the sugar through this.

Make a well in the centre, and add the butter. Using your fingers, pinch the butter and sugar to mix together.

Add some marsala. There is no precise measure – just add a little bit at a time until the dough comes together.

Work the dough a little, then leave it to rest. Take your cannoli rods and grease using butter while you wait.

Roll out the dough and pass through a pasta machine. Start on level 0 and keep passing it through until you reach level 6.

Using an oval stencil, cut your dough into ovals. Place the cannoli rods in the middle of each rod, and roll the dough over it to meet in the middle. Brush with the lightly beaten egg.

Heat the oil in a pot. Once hot, place your cannoli in and fry until golden. Remove from the oil and dry using paper towels. Remove the rods and you have your cannoli!

Take your ricotta filling and put it in a piping bag. Pipe the ricotta filling into each cannoli evenly, dipping the ends in pistachios.

Dust with powdered sugar and serve!
Buon Appetito! Follow along with Flavours' Sicilian chef, Carmela, in the video below to learn how to make your own delicious cannoli!