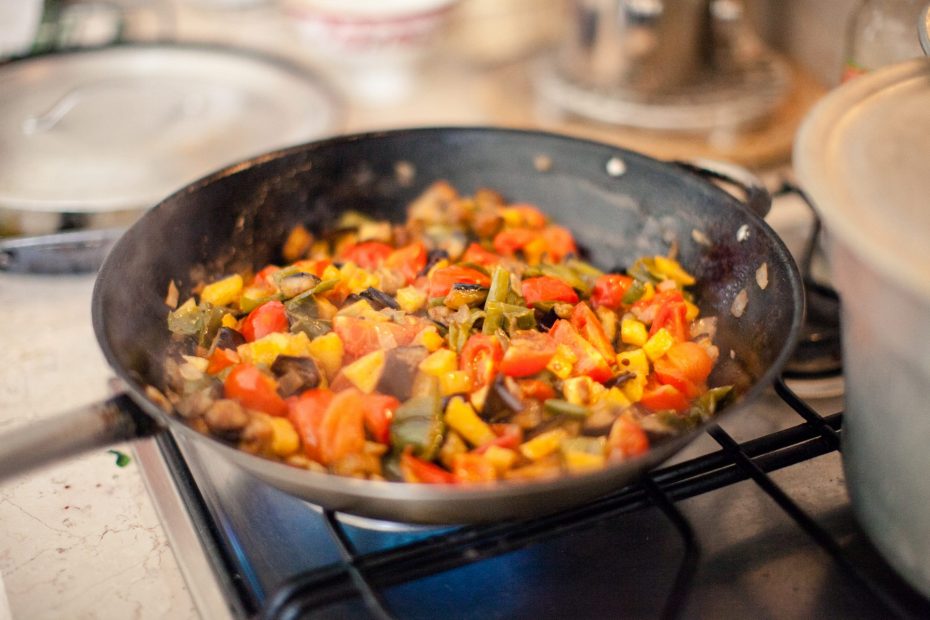 A simple Sicilian dish bursting with flavour, caponata is a great recipe to master – it can serve as a starter or as a side dish, and goes well with almost any meal! Traditionally made with aubergine, celery, olives, and capers, it can be easily modified to include your favourite vegetables, what you have left in your fridge or whatever's in season.
The vegetables are fried, and then cooked in an agrodolce sauce. An agrodolce sauce is a traditional Italian sweet and sour sauce, made using vinegar and sugar. In this recipe, we use white wine vinegar for its refreshing tanginess, as it perfectly complements the vegetables without overpowering them.


Best served cold, this aubergine salad is a great accompaniment for fish dishes, but can also be served as a vegetarian main course or starter! Learn how to make this recipe and other delicious Sicilian dishes by joining one of our online cooking classes!
Serves: 4
Preparation Time: 30 mins
Cooking Time: 1 hr
Ingredients:
1 aubergine
1 pepper
1 small onion
1 tbsp capers
2 stalks celery
100g green olives
½ clove garlic
1 tbsp white wine vinegar
2 tbsp caster sugar
Olive oil (to taste)
Salt (to taste)
Instructions:
Dice the aubergine into large pieces and fry in a little seed oil until it starts to soften. Use a spoon to gently remove the aubergine from the pan and place in a colander, to let the excess oil drain.

Roughly chop the peppers into slices, and add to the frying pan. Let soften, then remove with a spoon and place in the colander as well.

Slice the celery and onion, and chop the garlic cloves. Drizzle some olive oil into a pan and saute the celery, onion and capers in the pan, with garlic.

Mix your tomato paste concentrate with a little water to melt it, before adding it to the onion mixture. Add the sugar and vinegar to this mix, and stir.

Once the vinegar has evaporated, gently add the aubergine and pepper back into the mixture. Let them stew for 5 minutes or so, then turn the heat off and let it cool.

Once cool, put the caponata into a bowl or on a plate, and place in the fridge until cold. Store in the fridge and eat within 5 days.
Watch the video below to see Sicilian chef, Carla, demonstrating our caponata recipe. You can turn on the English subtitles by using the video controls. Buon Appetito!