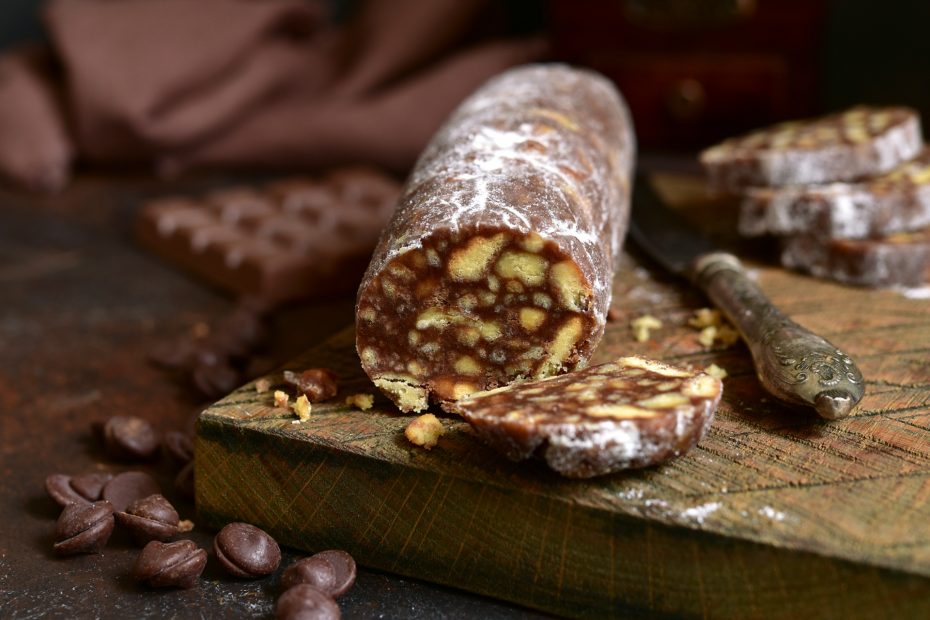 Salami for dessert may sound contradictory, and chocolate salami may sound basically unimaginable, but trust us – salame al cioccolato is an incredibly satisfying sweet treat that will have you begging for more! Don't let its super simple recipe and strange name deceive you – chocolate salami is a truly luxurious dessert. This indulgent dish matches perfectly with an after-dinner espresso, as well, with the sweetness and creaminess of the chocolate cuts through the coffee's bitterness, so it's really a perfect combination!


Serves: 10
Preparation Time: 30 mins
Ingredients:
200g dry biscuits
100g butter, room temperature
1 vanilla bean or 2g dried vanilla
50g bitter cocoa
3 eggs
50g sugar
2 tablespoons of rum
Icing sugar (to decorate)
Instructions:
Separate the egg yolks and whites.

Place the egg yolks in a bowl and add the sugar. Beat with an electric mixer until frothy.

Add the vanilla and rum to the bowl and mix to combine.

Add some of the cocoa, sugar and softened butter to the bix, before breaking some of the biscuits into coarse crumbs and adding to the bowl. Make sure you still have some slightly larger pieces to add texture to the salami!

Using your electric mixer, beat to combine. Add the rest of the cocoa, sugar, and biscuits to the bowl and mix again until this creates a chocolate dough.

Place the dough onto baking paper and roll it into a log shape. You want this to be about 2 inches in diameter.

Cover in plastic wrap and refrigerate for at least 2 hours, or until firm.

When the dough is firm to touch, remove from the fridge and dust in icing sugar.

Slice into pieces and serve!
Buon Appetito! Our chef Maurizio Freschi has made a video demonstrating the above recipe! You can turn on the English subtitles using the video controls. You can learn cooking Italian recipes first hand from Maurizio on our
cooking holidays in Venice
!