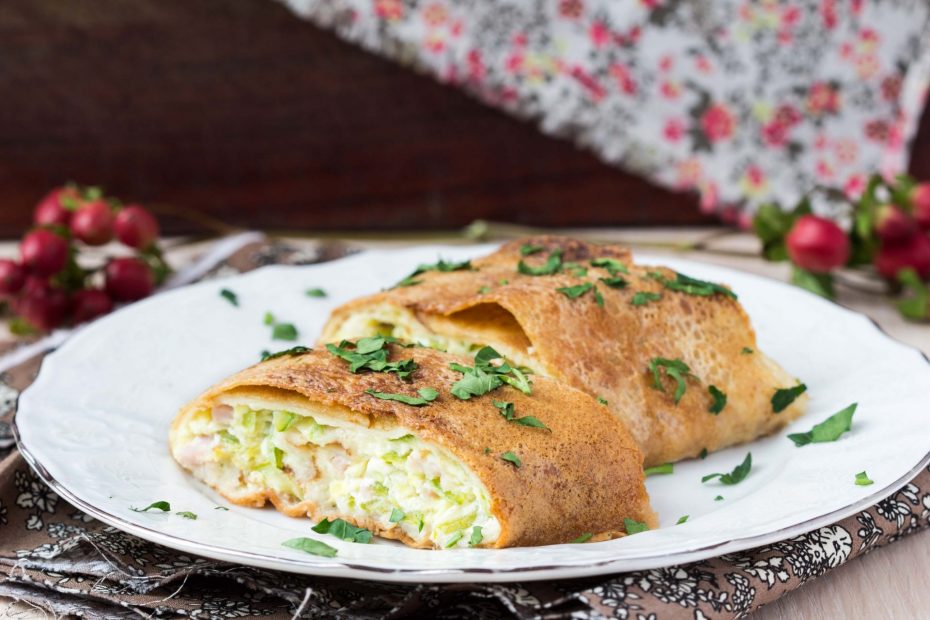 With courgettes in season now, it's the perfect time to try out a new recipe with an Italian twist! These crepes di zucchine, or courgette pancakes, are a light, healthy way to use courgettes. Perfect for an easy lunch, these crepes are filled with a herbed goat cheese and thin slices of grilled courgette. 
The crepes themselves have grated parmesan cheese in the batter, making them ever so slightly indulgent for this healthy Italian recipe! They're a great option for feeding a group as well, as they can be adapted to suit everyone's preferences – you can add ham, carrots or cheese as well if you prefer.

Learn to make other authentic Italian meals in our online cooking classes. Find your perfect class here.
Serves: 6
Preparation Time: 1 hr 30 mins
Cooking Time: 15 mins
Ingredients:
1 courgette
1 egg
65g flour
10g grated parmesan cheese
125g milk
Butter
Thyme
Oregano
Roast ham
Goat cheese (or spreadable cheese of your choice)
Olive oil
Instructions:
Crack your egg into a bowl. Add a pinch of salt and a drop of olive oil. Whisk together.

Add the flour, a bit at a time, and continue mixing.

Then add a bit of milk, mix until smooth. Continue alternating adding the milk and flour, mixing in between.

Add the parmesan cheese and mix through. Cover with cling film and leave in the fridge for 30 minutes.

Wash your courgette and slice thinly (about 2mm wide). You can do this with a knife or using a potato peeler.

Using a grill or pan on a low heat, grill the slices slowly.

Take the crepe batter out of the fridge and whisk.

Add the thyme and oregano into the goat cheese (or spreadable cheese), to taste.

Place a non-stick pan on medium heat, add a little butter to grease. Take a ladle full of crepe mixture and pour in the pan.

When the crepe rises, flip it over. Leave it for a few moments, then remove and place on a plate. Repeat until the batter is used.

Take a crepe and spread with goat cheese – the amount is entirely down to personal preference.

Line with ham (optional), then line with courgette slices. You can also use carrot or cheese, whatever you prefer!

Roll the crepe up and wrap it in cling film. Repeat with all the crepes, and place in the fridge for an hour.

Once they've cooled, unwrap and slice into 2cm thick slices, and serve!
Buon Appetito! Follow along with Flavours' chef, Maurizio, in the video below to learn how to make your own delicious crepes di zucchine!