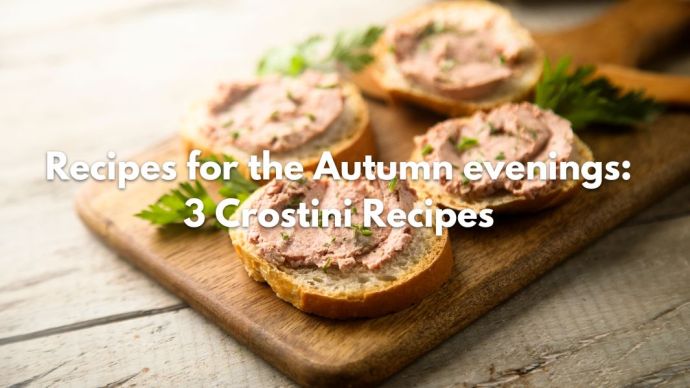 Crostini known as "little toasts" in Italian are small appetisers consisting of small slices of bread that have been toasted or grilled and topped with various flavourful toppings. Crostini originated in the province of Chieti, during the middle ages, when the poor ate their food off of bread instead of a plate. Nowadays these small appetisers are great for nibbles during the autumn evenings. A fantastic recipe to enjoy with friends and family. These 3 Crostini recipes offer a great variety of flavours, everyone is bound to like these delicious delights.
Prior to your preparation you will need 2 baguettes, or bread of your choice, that are sliced diagonally and baked at 190° for approximately 10 minutes.
Crostini with Mackerel mousse:
Ingredients
80g of mackerel in olive oil
80g of soft goats cheese (or any other spreadable cheese)
1 tbsp of capers
1 tbsp of Gherkins
Salt and Pepper
Method
Place all ingredients into a mixer and blend until you get a creamy mixture.
Spread the mousse onto your sliced baked bread and decorate with sliced gherkins or capers.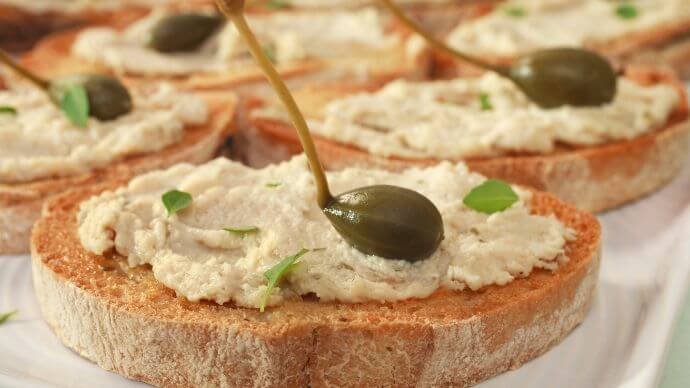 Crostini with Pumpkin
Ingredients
200g peeled pumpkin
1 tbsp of fresh Rosemary
1 tsp of Extra Virgin Olive Oil
* optional: Garnish with caramelised onion
3 red onions
20g sugar
20ml white wine vinegar
Water
Salt
Method
Thinly slice the pumpkin to approximately 4mm slices.
Preheat your oven to 180°, line a baking tray with greaseproof paper and lay the slices of pumpkin.
Sprinkle it with salt, rosemary and a drizzle of olive oil.
Cook for 20/25 minutes until the pumpkin is softened.
Our pumpkin crostini goes perfectly with a topping of caramelised onion, this is optional, but we strongly recommend for the perfect, flavourful crostini. 
While the pumpkin is cooking, slice the onions. Heat some oil in a pan and let them cook, adding some water, the sugar and vinegar. Cook over a medium heat, stirring occasionally.
Assemble by taking your slice of bread and adding a slice of pumpkin and topping with a dollop of caramelised onion.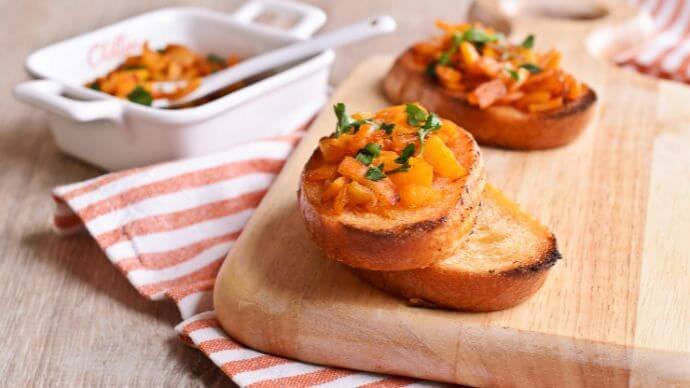 Crostini with casatella (blue) cheese
Ingredients
200g of casatella cheese or other soft cheese such as stracchino/crescenza
Sun Dried tomatoes in olive oil
Anchovies
Method
Slice the casatella cheese and lay onto the bread slices.
Garnish as you like with sundried tomatoes, anchovies, or to your liking with whatever you have at home.
Castella cheese is known for it complementary flavours when paired with white and sparkling wines, if you want find out what other foods that pair well with various Italian wines, then read our blog "what to eat with Italian wine".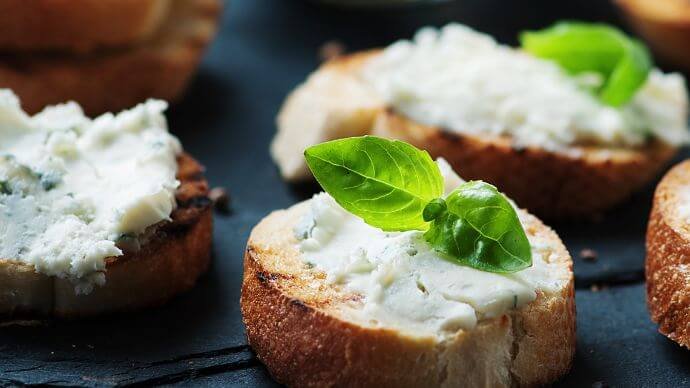 These simple, yet delicious "little toasts" are the perfect addition to your autumn evenings. A truly flavourful appetiser that everyone will enjoy.
Let us know if you tried these 3 Crostini recipes by commenting below, which "little toast" was your favourite?