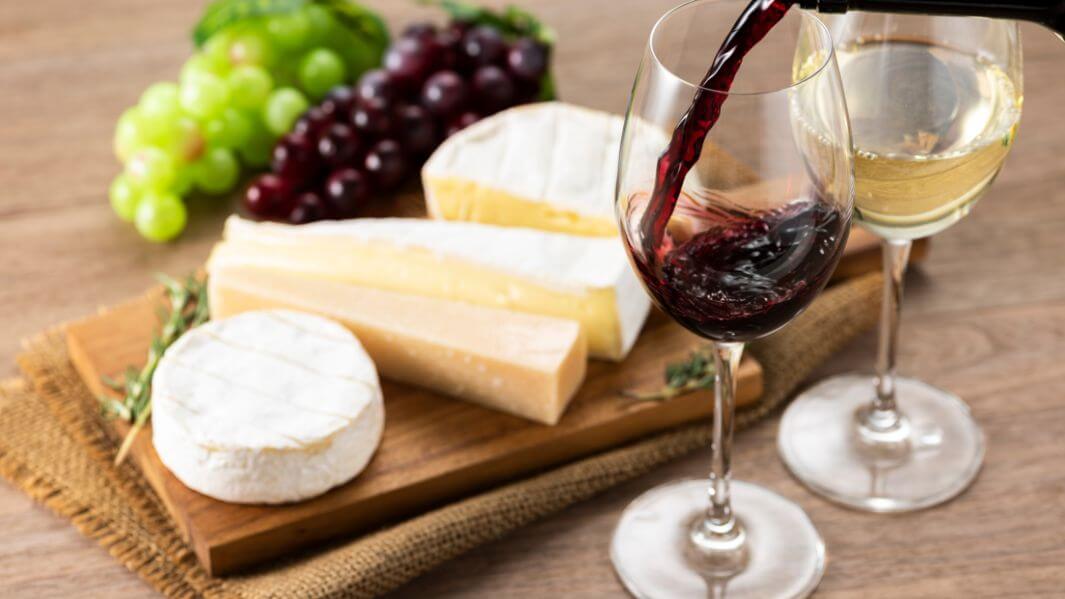 Wine is an essential component of not only Italian cuisine, but the Italian way of life. This relatively small European country is the largest producer of wine in the world. Every one of its 20 regions produces wine, and there is infinite variety. The type of wine that an area produces often goes with the food that area is famous for. So here below we have listed 8 of Italy's most famous and delicious wines, four white and four red, and what to eat with them. Although there aren't hard and fast rules about what can accompany your Italian wine, below are some ideas, and we've combined the wine with food from the same region where possible.
White Italian wine:
Vernaccia Riserva DOCG
Grape: Vernaccia
Region: San Gimignano, Tuscany
Pair with: Pecorino cheese, Risotto with artichoke and saffron
If you have been on one of our cooking holidays in Tuscany, there's a good chance you may have visited San Gimignano, nicknamed "Mediaeval  Manhattan" after its striking stone towers. Although Tuscany is usually known for its red wine, San Gimignano is one of the few Tuscan areas famous for its white. This Italian wine is made with the Vernaccia grape and according to legend it is the favourite wine of popes, from the middle ages to the present day pontiff, Francesco.
Enjoy this wonderfully dry, balanced white with some slices of mid-season pecorino (Italian sheep's cheese), followed by a main course of risotto with artichoke or any other green vegetable in season. San Gimignano is also famous for being the largest supplier of saffron in Italy, and this will go deliciously in your risotto.
Franciacorta
Grape: Chardonnay, Pinot Noir, Pinot Bianco
Region: Lombardy
Pair with: Taleggio cheese, Rotisserie chicken
 Franciacorta, known as the best sparkling Italian wine, is often produced organically as the area's climate is well suited for organic viticulture. Surprisingly for fizz, Franciacorta is a wonderful accompaniment to many kinds of food. We suggest pairing this Italian wine with soft cheese on crackers such as brie, or, if you want to be really authentic, taleggio cheese from the Lombardy region, one of Italy's most prolific cheesemaking regions. For a special main meal we love Franciacorta with rotisserie chicken – a delicious dinner with a twist!
 Of course Franciacorta also tastes fabulous along with a slice of the region's famous Panettone cake at Christmas time.
Soave
Grape: Garganega
Region: Veneto
Pair with: Cicchetti (Italian tapas), Black risotto
Soave (pronounced swah-vay) and Chianti were the first places in Italy to be recognised by Royal Decree as having the potential for producing fine wines, back in 1931. Soave is an characterful mediaeval town – complete with a castle and walls – situated a few kilometres east of Verona.
The Venice region is famous for its version of 'tapas' or nibbles, known as cicchetti (pronounced chi-KET-tee). There are so many things you can make for cicchetti – finger sandwiches, mini meatballs, crostini..have fun with what you create, just make it small!
Then for your main course, we dare you to go all out with squid-ink risotto, a regional speciality! If you don't fancy de-inking a squid, then seafood paella would make a passable substitute (just don't tell any Italians we said that!!).
Pecorino
Grape: Pecorino
Region: Marche
Pair with: Ascolana olives, spaghetti with mussels
Not to be confused with Pecorino cheese, Pecorino is the name of a grape variety local to the Le Marche region. Sometimes called 'the new Chardonnay", its elegant notes of fruit, flowers and sage would sing in harmony with some local Ascolana olives followed by seafood spaghetti. Le Marche is known for a particular variety of mussels known as "moscioli" but until your next trip there, you'll need to make do with normal ones!
The Marche region is located in the east of Italy next to Umbria, between the Apennine mountains and the Adriatic Sea.
Red Italian wine:
Primitivo
Grape: Primitivo
Region: Puglia
Pair with: Taralli, squid or calamari, rich and/or spicy tomato-based meat or aubergine dishes
Puglia is the "high heel" of Italy and is known for its history, glittering seas and olive trees. If you like the big jammy flavour of Primitivo wine from this sun-soaked region, we suggest you at least nibble some of Puglia's classic "taralli" while you sip. these little ring-shaped savoury biscuits come in various flavours, from classic olive oil to rosemary and potato to fennel seeds. They are widely available but most delicious when homemade (like so many things!).
If you're having a main course with Primitivo wine, you'll need a big powerful flavour to match – think rich or spicy tomato based dishes with red meat or aubergine. As Puglia is on the sea, you might like to combine it with a nice squid recipe (if you're feeling adventurous, try out typical "polpo alla pignata") or simple calamari. Yum!
Nero D'Avola
Grape: Nero D'Avola
Region: Sicily
Pair with: Arancino, Pasta alla Norma
Nero D'Avola typically has a strong body and flavours of liquorice, black fruits and chilli. As an antipasto of course we have to recommend classic Sicilian "arancini" – deep fried balls of rice with mozzarella in the middle (drool)…however if you can't find these anywhere (try an Italian deli or the frozen section of Waitrose), then a small portion of something else hot, heavy and cheesy could act as a substitute. If you want to make your own Arancini, you can follow along our recipe over on our YouTube channel.
For a main course you could rustle up pasta "alla Norma" – a sauce of aubergine, tomato and basil – to accompany your Nero D'Avola. This dish is typical of Catania in Sicily.
Barolo
Grape: Nebbiolo
Region: Piedmont
Pair with: "Turin" breadsticks, Meat-filled ravioli
Piedmont cuisine is rich and savoury, matching its powerful, tannin-heavy Barolo wine, known as "The Wine of Kings"! We suggest you start off your bottle with "grissini Torinesi" – rustic hand-pulled breadsticks – to snack on. Follow this up with a plateful of hot "agnolotti," Piedmont's typical dish of lamb-filled ravioli.
Chianti Classico
Grape: Sangiovese
Region: Tuscany
Pair with: Pizza, T-bone steak
This ruby-red well balanced Italian wine traditionally comes in a straw-wrapped bottle known as a fiasco. Its high acidity means it can cut through fattiness and rich tomato sauces, so pizza is a popular accompaniment. Or, pull out all the stops and have it with a T-bone steak done in the Florence style bistecca alla Fiorentina.
Tuscany is renowned for its red meat, so another great option if you can find it would be wild boar ragu. A match made in heaven!
We hope this article has inspired you to explore some new Italian wine or Italian dishes. Buon appetito! 
Let us know in the comments what you like to eat with your Italian wine!