We all know that Italians are known for eating well… with their pizza, pasta and gelato. We think we know what Italians eat, but do we know how the locals actually eat? Here is our guide to eating like a local in Venice: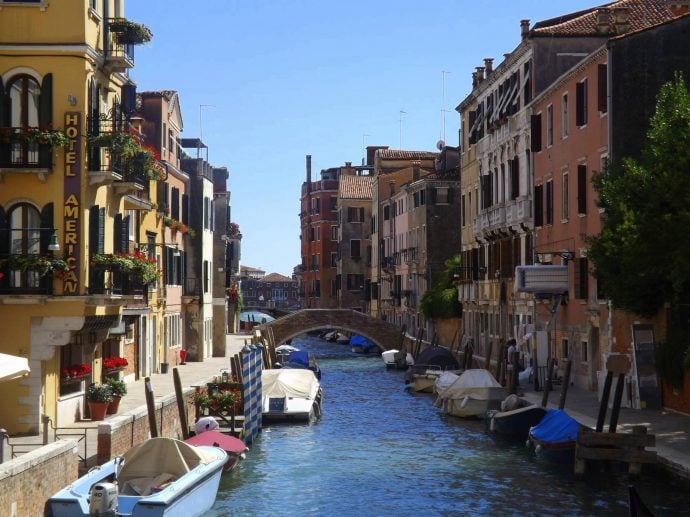 1. Venetian small sharing plates – cicchetti in bacari
Spain is known for its tapas, particularly in the Basque region where it is called Pintxos. You've probably had Greek mezes while on holiday in Greece but did you know that Venice has it own tradition of small sharing plates?
Venetian cicchetti, pronounced (chi-KET-tee) can be found across the city in small traditional wine bars called bacari.
So what makes bacari popular with Venetians? For one, these bars have maintained their traditional spirit with customers mingling around the bar, chatting and expecting nothing but good company.
2. Don't mention the t-word (tapas), you don't want to offend the locals!
A cicchetti pub crawl is called giro d'ombra. Giro means 'stroll', and 'ombra' is slang for a glass of wine, means 'shade'.
3. Be adventurous and go for a wander
If you want an authentic experience of Venice, you need to be adventurous and go for a wander. Getting lost is probably the best way to do this.
The further you venture from St Mark's square, the more bacari you will stumble upon. Backstreet bacari's are where you find the locals – pop in for a glass of wine and some snacks.
The good thing about bacari is that usually won't be penalised for sitting down, although most people prefer to stand, but the if bar is big enough, there may be some table and chairs to rest weary feet.
These small hole-in-the-wall eateries have lots of tasty morsels for you to try.
Some typical food you might see on offer – deep fried mozzarella, gorgonzola, calamari, and artichoke hearts – basically anything you can put on a toothpick.
The little snacks feature seasonal vegetables as well as fresh seafood. Bacari's specialise in different types of cicchetti and the dishes represent the culinary heritage of the city. Whether it is fresh fish, meats or cheeses, you will be able to taste one culinary highlight after another.
4. Crostini and sarde are popular
Crostini is a popular small bite, with endless toppings to choose from.  Another local favourite is sarde in soar, meaning sardines with flavour.
5. Local Veneto wines and aperitifs
The most typical wine to order with your cicchetti is a local Veneto wine. Not many people realise that Venice produces the largest variety of red and white wines in Italy.
It also produces the largest volume of wine in the country, most of which is consumed locally!
You don't have to a glass of wine, other aperitifs are on offer – Bellinis, Aperoll spritz, and of course, Prosecco.
If the night is still young, you might want to pace yourself and save a bit of money by choosing vegetarian options, as they tend to be cheaper. And breadsticks are usually free.
6. Starts at 6 p.m.
In a stark contrast to a Spanish tapas crawl, proceedings in Venice start after work around 6 p.m. Bars don't open too late and the cicchetti selection dwindles as the night goes on. Most bars aren't open on Sundays.
7. Polpette – pork meatballs
Polpette is a very popular cicchetti – small, tasty meatballs. One of our favourite food bloggers 'Food To Glow' was in Venice recently and inspired by her travels, created this vegetarian version of polpette 
8. Bacari are found everywhere in Venice
Each neighbourhood has its own, unique version of a bacari and represents the true spirit of the district.
Here is a little list of bacari that we recommend and will help you decide where to go and try the local cuisine.  We have included the Google map reference too:
Away from the tourist hubs, the Osteria Ca' D'Oro serves delicious food, at reasonable prices with outstanding service. Located on the Strada Nuova, it is one of the best-known bacari in the city. That's probably the reason why you should make sure that you have a reservation – especially on a weekend when locals swarm into the tiny place to have their polpette (pork rissoles).
This small bar is situated just across the iconic Rialto Bridge, on the other side of the Grand Canal and is a perfect place to go after visiting the renowned Rialto fish market. It will come as no surprise that All'Arco serves an excellent selection of seafood cicchetti such as calamari and prawns.
Cantina Do Mori dates back to 1462, and is the oldest bàcaro in Venice. Its rustic charm makes it a popular place for Venetian and its house speciality is francobollo, a sandwich filled with sliced meats, radicchio, gorgonzola and roasted vegetables, is a must try for every food lover.
No less traditional and historical than Cantina Do Mori, this bacari has its origins in the 15th century. Specialities of the bar include seafood and a variety of cheese spreads and seasonal vegetables.
Flavours Holidays offer holidays to the beautiful Venice as an activity holiday in cooking and painting. Flavours welcome solo travellers, as we have never had a single supplements on our rooms.