There is very little I love more than eating Italian food, and I'm sure you feel much the same! Italian cuisine is definitely one of the best-loved in the world, but how often do you cook an Italian feast for yourself? Many Italian meals are deceptively simple and worth the effort for the delicious rewards you get!
One of the best ways to learn to cook an authentic tasting Italian meal is to learn from an Italian! Our chefs are now leading Italian cooking classes, live from Italy via Zoom video calls, and teaching people all around the world how to make delicious dishes in their own homes.

There's so much to learn in these classes, from practicing traditional techniques to perfecting pasta from scratch! Even better, the lessons are perfectly timed so I was able to enjoy my delicious Italian meal for lunch!
Sounds amazing, I know! If it's something you've not done before, you may be wondering 'what is a Flavours online cooking class really like?' Read on to find out!
How do I join a class?
With the Flavours online cooking classes booking system, it's incredibly easy to choose a class with a recipe that excites you and that fits your schedule! You can choose from a pasta masterclass where you can learn to make unique pasta types such as Strichetti Rossi or how to perfect lasagna sheets for a Lasagna con Zucchine!


Once you've booked your class, you'll receive a confirmation email with the link to join the class and the full recipe. This means you've got plenty of time to buy the ingredients and get excited!
"What I like generally is the camaraderie and enjoyment we are all having in learning together from a top notch teacher." – Linda
Do I need to prepare anything?
It's entirely up to you! You'll be cooking along with the chef, so you can chop and measure your ingredients as you go, or prepare these in advance. I would recommend having any tools required – pots, pans, pasta board and rolling pin – ready when the lesson begins. This saves you from searching for them during the class!
As you'll need to be in the kitchen during the class, I would also recommend setting up your laptop or tablet in a safe place (not near the sink!) in the kitchen.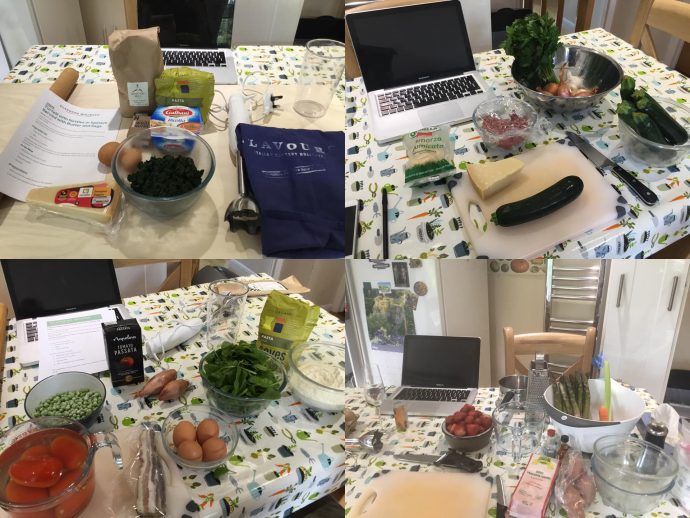 What happens during the class?
"I enjoyed Carla chatting away in Italian and the young man translating it all for us…The meal featuring the meatballs that evening was delicious and I would definitely try them again." – Evelyn
Once you join the class using the Zoom link provided, you'll meet your chef – the lovely Livia or our Sicilian mama Carla – and your fellow cooks. It's a great chance to meet fellow cooking enthusiasts and share your love of Italy!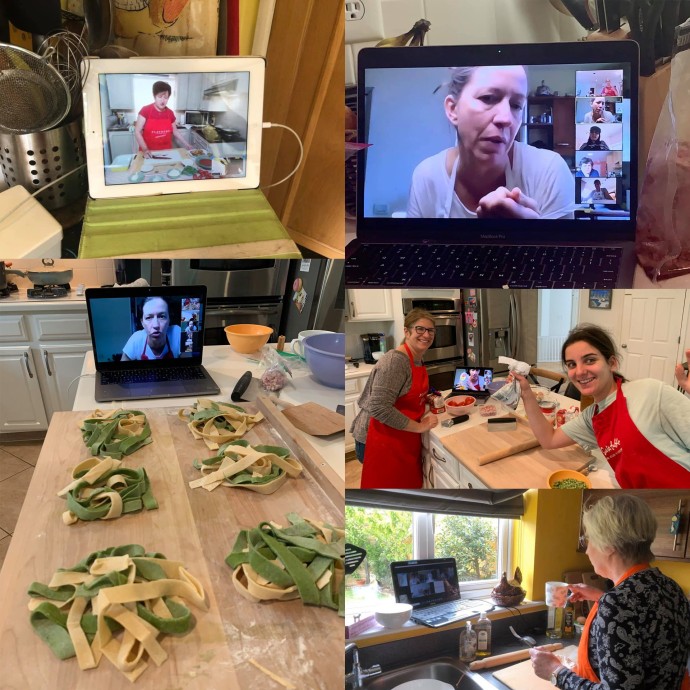 Your chef will explain the recipe and demonstrate the steps, with you following along – cutting your vegetables or rolling out your pasta along with them! If you have any questions, the chefs are happy to help and can give you advice on techniques and cooking methods as you go. It's a fun and interactive way to learn how to cook!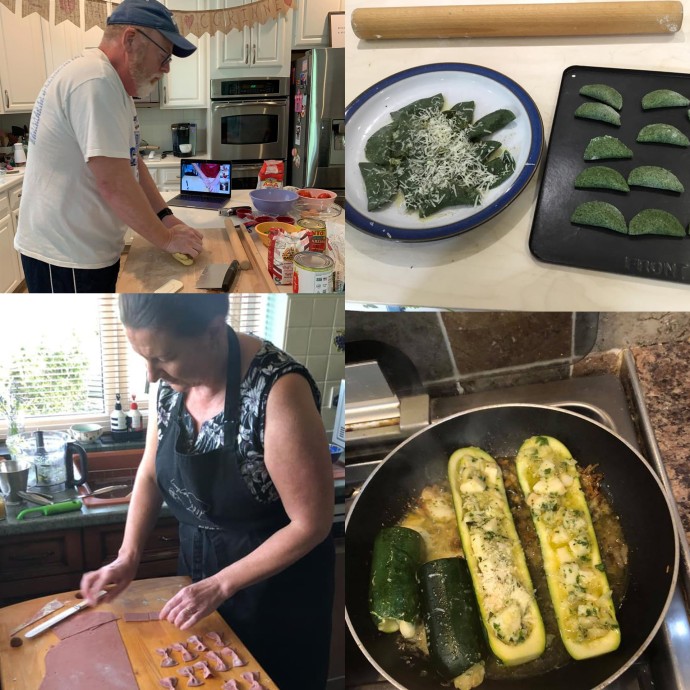 Flavours recommends having some Prosecco chilling in the fridge during your lesson, so you can "cheers" with your group at the end of the lesson! You'll have the chance to chat about what you've learnt with your new friends here as well!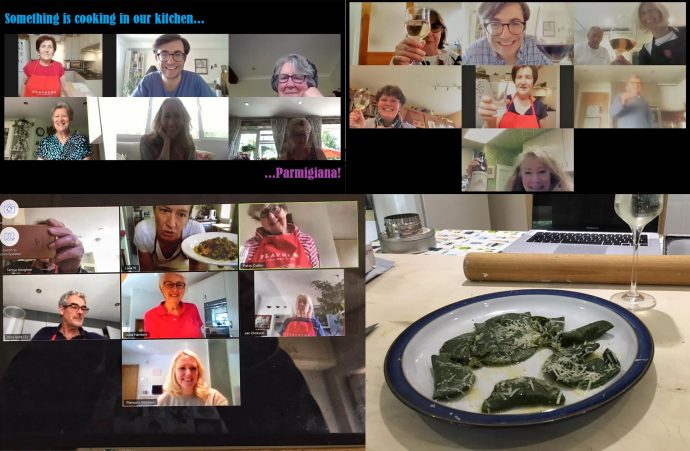 After the lesson
"What I like generally is the camaraderie and enjoyment we are all having in learning together from a top notch teacher." – Linda
Once the lesson is over, you get to sit down to a delicious, authentic Italian meal for your lunch – perfect timing! Before you tuck in, take a photo of your creation to share with your friends! We would love to see it too, so feel free to share it on our Facebook page or tag @flavoursholidays in your Instagram photos!