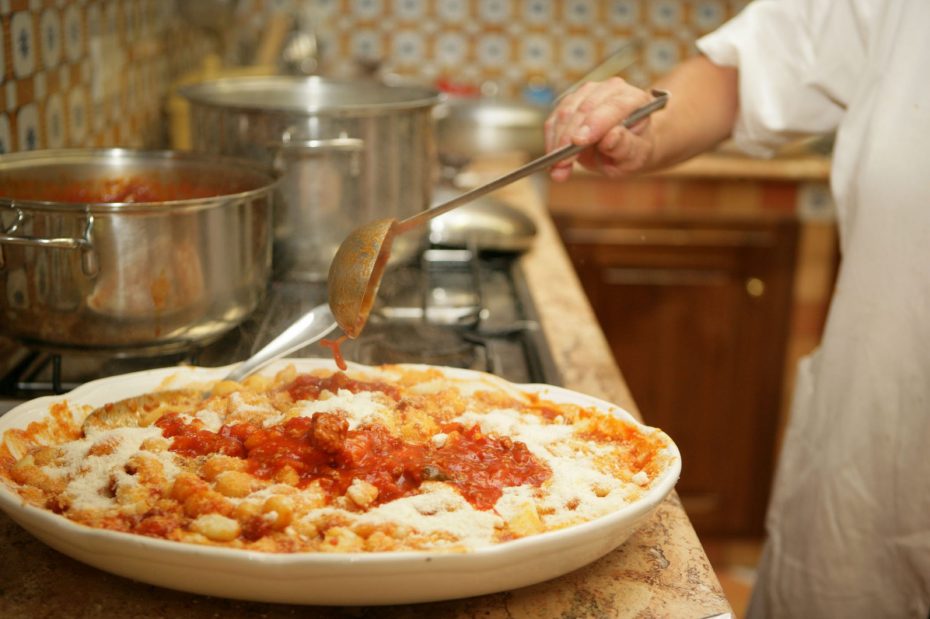 This hearty dish hailing from Sorrento is a guaranteed crowd-pleaser. You're sure to make it on one of our cooking holidays in Amalfi, and our local chefs from the region have shared their authentic recipe with us!
Serves: 8
Preparation Time: 1 hr 30 mins
Cooking Time: 1 hr
Ingredients:
1Kg starchy potatoes, in their skins
400g Plain Flour
1 Egg
Salt
50g Parmesan, grated
300g Mozzarella, diced
10 Fresh Basil leaves
Extra Virgin olive oil
1 large jar passata
2 cloves garlic, crushed
1 onion, diced
Instructions:
Boil the potatoes until tender (about 45 minutes).  Peel and then mash well, until they're as smooth as possible.

Put the potatoes on a clean pasta board. Make a well in the centre, and add the flour, egg and seasoning. Begin by mixing with a fork, then use your hands to bring the dough together to form a uniform consistency. Knead the dough for a few minutes, until it is not sticky.

Break off pieces of the dough and roll out into a thin sausage shape. Cut into 2 cm pieces. To make the traditional shape, you can run the gnocchi along the lines of a fork, and leave them to rest. Repeat to use up all the mixture.

While the gnocchi are resting, time to make the sauce. For the sauce, cover the base of a pan with olive oil, add the passata and onion and gently simmer for about 15 minutes.  When the sauce is almost ready, tear the basil leaves into the sauce.

Put a large pan of salted water to boil. Once boiling, cook the gnocchi a few at a time. They are ready when they rise to the top.

Serve topped with the sauce, mozzarella, parmesan and plenty of basil. (You can pop the gnocchi under the grill for 10 minutes or so for a crispy top, if desired.)

Buon appetito!