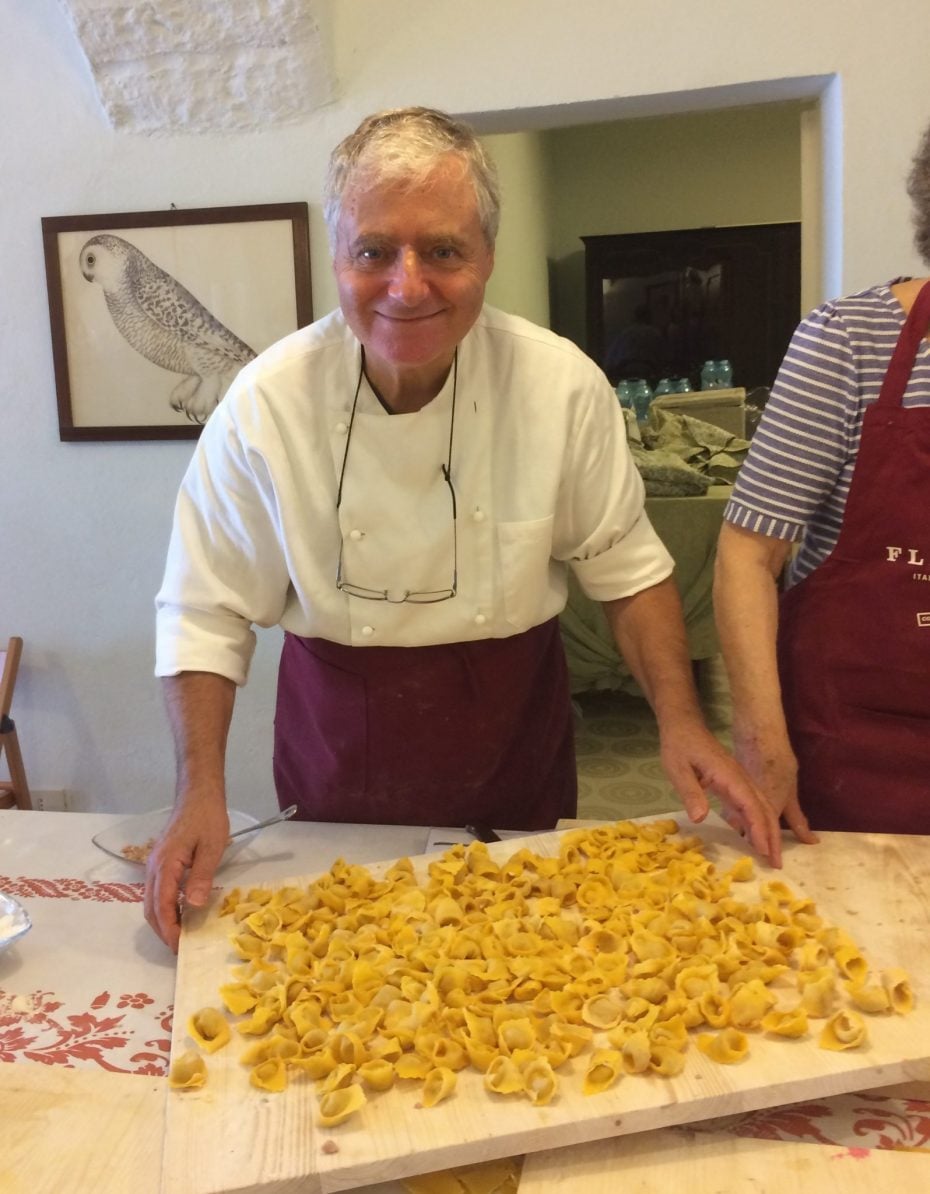 Tortellini… pasta parcels filled with meat, herbs and spices that melt in your mouth. Traditionally they are served in a wonderfully rich meat stock, resulting in comfort food at its best. As always is the case with Italian food, homemade is the only way to go. In the UK, supermarkets offer rubbery versions but nothing beats the real thing.
They can be made with a variety of fillings but our chef Gentilini from our Bologna Cooking Holidays has given us the traditional version: which in Italian cuisine is normally the best! They can be fiddly and frustrating but persevere and you can create something out of this world. You can always have a glass of wine to hand if the pressure gets too much…
Serves: 4
Preparation Time: 1 hr
Cooking Time: 5 mins
Ingredients:
300g tipo 00 flour
4 eggs
80g mortadella
80g prosciutto
80g pork loin
80g chicken breast
100g parmesan
nutmeg
a few sage leaves
50g butter
tablespoon of olive oil
salt & pepper
2 Litres of good chicken stock (preferably homemade)
Instructions:
Lightly fry the pork and chicken in a pan with the butter, olive oil and the sage leaves until cooked through.

Place the meat in a food processor and blend with one egg, prosciutto and mortadella.

Work the mixture with your hands until it is smooth. Add the grated Parmesan, nutmeg, salt & pepper to taste.

To make the dough. Make a well in the flour and combine with three eggs until fully combined. Roll it as thin as possible and cut into small square shapes (3×3 cm) add the filling and then seal the parcels.

Bring the Chicken Stock to the boil and cook the tortellini in the stock for 1 minute.

Serve in bowls with sage leaves and grated parmesan on top!