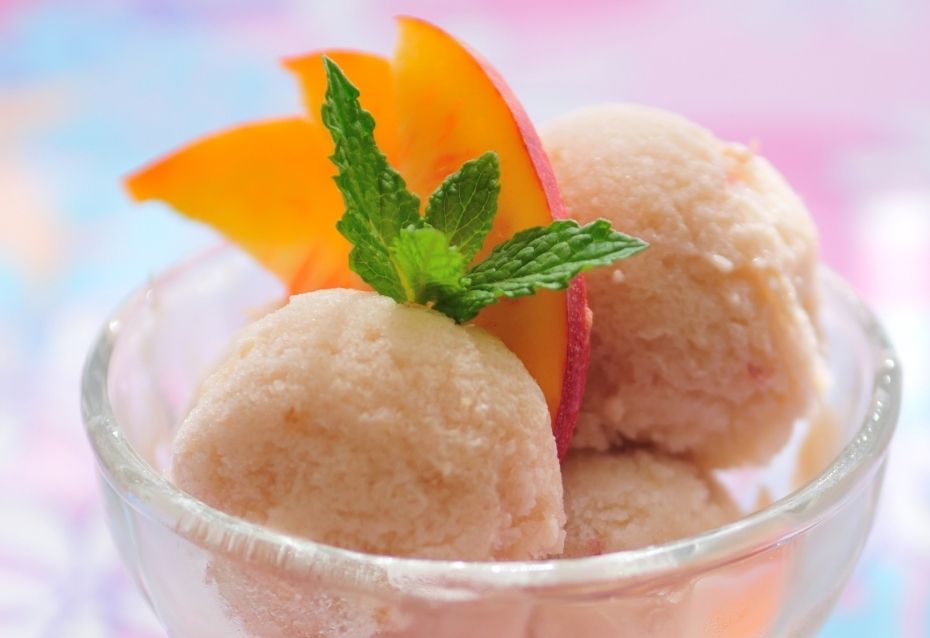 How to make your Peach Sorbet 
You only need four ingredients to make this easy Peach Sorbet recipe for those hot summer days. Using sweet ripe peaches, you can prepare a quick summer dessert! Our chef Livia shares her top tips to make the best Peach Sorbet.
The key to this recipe is using fully ripened peaches.  Top tip from Livia, you know the peaches are ripe enough when the skin comes off easily. 
Livia says if you have the chance to collect them ripe from a tree the flavour will be better! Otherwise your local supermarket peaches will do just fine!
Serves: 4
Preparation Time: 15 mins
Cooking Time: 60 mins
Ingredients:
160g sugar
500g of ripe peaches
1 egg white
½ lemon juice
Instructions:
Peel 500g of ripe peaches and cut them into small cubes ( about 1 cm ).

Place the small cubes in the freezer.

It will take about 60 minutes for the peaches to freeze.

When frozen, use a mixer to make the creamy sorbet. Use a powerful mixer, as it's harder to blend when frozen

If the fruit is well frozen the sorbets consistency will be creamier.

When blended add 160g of icing sugar, add the egg whites and then add some lemon juice.

Serve the creamy sorbet on top of some ice cubes and some slices of peaches and decorate with mint leaves.
Bring out the chef in you!

Want to learn more recipes and cook along with our chefs? Then, why not join us in an
online cooking class
to learn new recipes with a live chef!