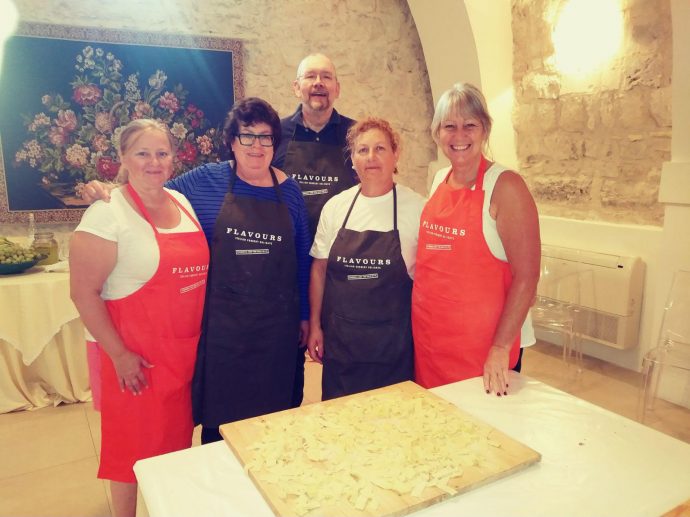 I have been a solo traveller for several decades, so booking into Flavours cooking course in Sicily was an absolute first for me i.e. being in a group. And I can tell you I had a great time! Firstly the accommodation was excellent – I had my own room with en suite bathroom including walk-in shower. And there was no single supplement! That is an absolute first. Thank you Flavours.
Secondly, and most importantly, the cooking week was excellent and a lot of fun. There were four of us doing the course – three from the UK and me from Australia. We all got on extremely well and had a lot of laughs. Our cooking instructor Carmela was Italian and spoke no  English and we spoke no Italian but we all learnt a great deal from her – she cooked by example. And then there was the wonderful Claudia who was our host and interpreter. She was a bundle of energy and good humour. An absolute gem.
The cooking team cooked lunch for ourselves and the painting students. We quickly learnt that lunch was the main meal of the day eaten at around 
1.30 – 2.00pm
 and washed down with lashings of wine. Dinner was late  – around 
8.30pm
 and a much lighter meal cooked by Carmela. Again no shortage of Prosecco and wine! All very Italian.
I can highly recommend the Flavours week in Sicily. I not only had a great holiday but I learnt a lot about how to cook Sicilian food. Viva Italia!