The famous Pizza Margherita is celebrating its 125th birthday this year. Created in Naples – the gateway to our beautiful cooking holiday destination Amalfi – pizza enjoys worldwide popularity. But what was it that made the pizza so famous? And how did it reach such international success? Come with us to explore the 125 year long journey of the Italian dish.
It's funny to think that one of the most diffused 'fast foods' in the world actually started life as a royal delicacy. Snacking on wedges of peperoni pizza out of a cardboard box is an image totally at odds with the champagne and caviar quaffing regal events that frequently find their way into our gossip magazines.
Yet arguably Italy's most iconic dish and certainly the most internationally recognisable – pizza margherita – has its origins in a bespoke recipe created to honour the visit of a foreign Queen.
Commissioned by the then renowned pizzaiolo of the day, Raffaele Esposito, pizza margherita is named after Queen Margherita of Savoy who visited the city of Naples in the summer of 1889. The three key ingredients – basil, mozzarella and tomato – each represent a colour on the Italian flag.
With its creation, Naples also took the mantle of being the birthplace of modern pizza (although in reality pizza-like bread creations had existed across the Mediterranean and North Africa centuries earlier).
It's hard to image what Raffaele Esposito would think today if he knew that his dish fit for a queen was now served by the slice in greaseproof paper or delivered in boxes by moped drivers! It's likely he also wouldn't approve of the array of toppings added to his classic trilogy.
Would Queen Margherita herself have savoured tandoori chicken, pineapple or even walnuts added to her eponymous culinary tribute?
However when Southern Italians emigrated in their thousands in search of a better life to North America, Australia and New Zealand pizza went with them.
Similarly after the Second World War, many European soldiers stationed in Italy during the conflict hankered for the dish once they returned home. Internationally there is no such thing as a typical pizzeria or classic pizza menu. Dough bases can be thin, crispy or crusty. Cheese added can be anything from cheddar to gorgonzola. Ham can be cooked, smoked or cured.
The combinations of ingredients themselves are just as diverse. Australians like laden with barbecued emu, crocodile and kangaroo. Indians prefer spicing theirs up with pickled ginger, minced mutton, paneer (a bit like cottage cheese) and tofu. In Russia the classic choice is mockba (salmon, sardines, mackerel, tuna and onions). Fresh fish is equally favoured across Scandinavia.
However, the Swedes also have a penchant for the exotic. Pizza Africa consists of a knock out mix of peanuts, banana, pineapple, chicken and lots and lots of curry powder! In France pizza often mimics the local tradition of a tarte flambee with combinations using crème fraiche, onions and lardons being common. Whilst in Japan, mayo jaga (mayonnaise, potatoes, sweetcorn, pimiento peppers and onions) normally finds its way towards to the top of the menu.
Interestingly rather than respond to these international interpretations of the city's most famous export with new innovations of their own the pizza restaurants and pizza chefs of Naples itself have striven to keep the culinary souvenir of Queen Margherita's regal visit as it was 125 years ago.
2014 also marks the 20th anniversary of the creation of Associazione Verace Pizza Napoletana. As well as inspecting the city's restaurants and bestowing on them the 'Vera Pizza Napoletana' trademark if they meet the grade, the association has also laid down strict rules as to how a real pizza margherita can be made.
Only a domed, wood-fired oven must be used and ingredients must be authentic – such as the local San Marzano tomatoes grown on the flanks of Mt Vesuvius and buffalo mozzarella produced in the mountainous region that encircles the city.
The association also promotes the skill involved in being a pizza chef or pizzaiolo; dough must be handed kneaded and rolling pins cannot be used; pizzas cannot exceed 35cm in diameter.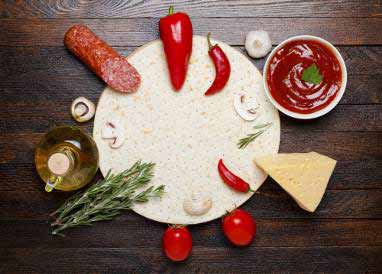 The prevailing sentiment in the city is certainly that Raffaele Esposito got it right first time 125 years ago and that you cannot improve upon perfection. Certainly when you taste a vera pizza napoletana in one of the city's oldest pizzeria with the brooding silhouette of Mt Vesuvius on the horizon across the shimmering Bay of Naples you could easily be seduced into thinking so. Yet can a dish really be frozen in time and no subsequent innovations be taken into account?
As with all anniversaries, the Neapolitans opted to designate an actual date on which to focus their celebrations. They opted for the 11 June as being the official 'birthday' of the famous dish and one of the city's most renowned pizzerias handed out squares of pizza margherita to passersby. Interestingly however the type of pizza handed out was a portafoglio – where the pizza is folded over so that can be eaten as a snack whilst walking along. A backhanded compliment perhaps to pizza margherita's evolution into one of the most internationally renowned snack foods in the world outside of its native city?
If you now feel like celebrating the anniversary of the famous dish in an authentic environment, why not come with us to the breathtaking Amalfi coast this year? Besides witnessing magnificent scenery, you will learn how to make pizza like a real pizzaiolo on our cooking holiday.