Italy is a great place for a painting holiday – it provides stunning landscapes, fantastic light and plenty of inspiration. It was also the place Sue Smith found her inspiration. The "Ancient Artist"-blogger and author started her professional art career when she turned fifty.
In her quest to understand more about the craft she loves, she travelled to Italy to study Renaissance Art: it was there she learnt the greatest lesson, standing in front of the Titian painting, Venus of Urbino, where she realized what it really meant to paint.
Today, she shares her tips about how to make a career out of painting and the challenges she faced on her journey.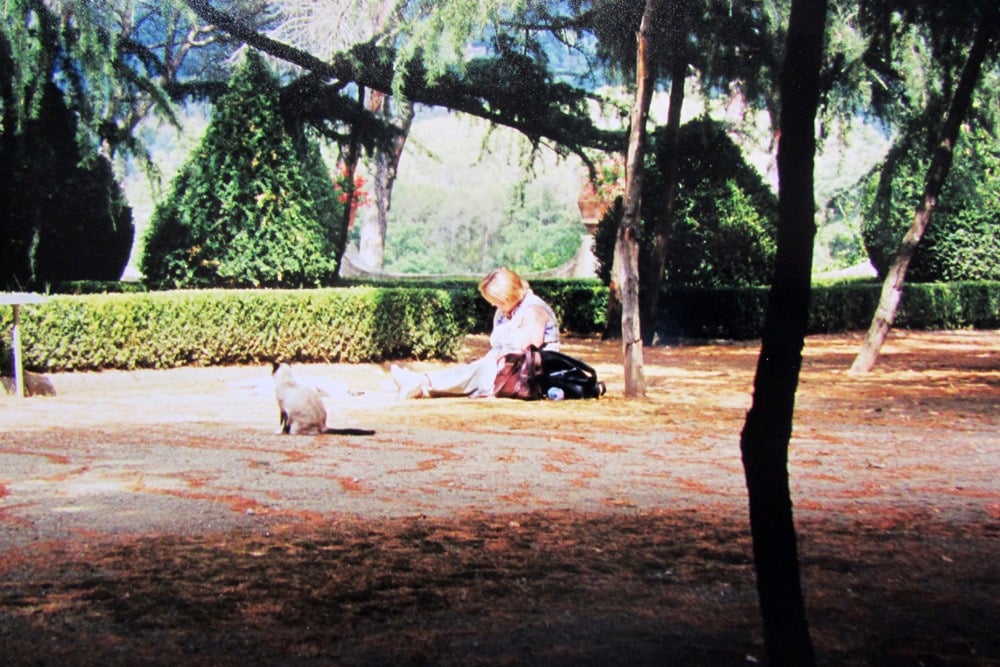 Can you briefly tell us more about your artistic journey?
When I turned fifty, I began to wonder if I could reinvent my life and become an artist.  It was more than a little challenging given my age and naivety, but I was determined to find out if I could do it.
I have never regretted that decision, even though my initial views on art making were quite different from the reality.  Art school created a set of expectations that I had to rethink and adapt to my own way of seeing the world.
But I admit that what I tend to rely on are ideas from a philosophical foundation, as well as inspiration from the life stories of artists before me.
You studied in Italy for a while. Is there anything specific you learned for your future painting career?
Italy was a combination of walking through art history and total immersion in beauty. The people were wonderful.  So was the food!
I was there for a two week intensive study workshop taught by two American artists, one from New York and one who lived in Germany, and a British ex-pat Art History professor.  What I took away was the realization that art could speak clearly from across the centuries.
Perhaps it sounds out of date in our electronic, instantaneous world, but the appreciation of technique, of the "life" or "feeling" that the artist was able to convey with paint on canvas can't be duplicated through computer reproduced images.
I found that idea deeply influential.
Do you have a favourite Italian painting location?
Boy, I would have loved to paint along the Amalfi Coast.  We spent our time in the Tuscan countryside.  I enjoyed the areas around Greve.
We were allowed a few hours to paint on the grounds of the Villa Vignamaggio, once known as the Villa Gherardini.  It is known that Leonardo da Vinci stayed at the villa sometime before 1506, and may have started work on the Mona Lisa there, using the hills as a backdrop.
Whether the Mona Lisa bit is true or not, it was a thrill to be painting in the same place as da Vinci, even for the few hours we had.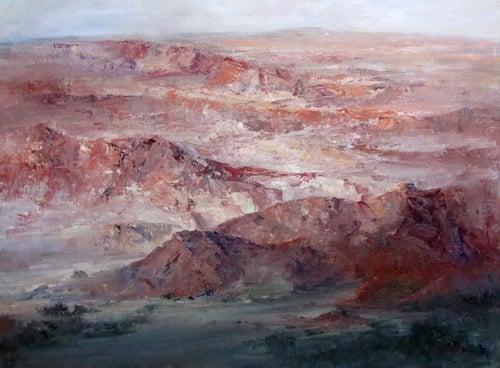 You decided at the age of 50 to become a professional artist – what triggered your decision? And, was there anything that made you feel anxious about your decision?
I'm not sure if there was a trigger. Just one day I decided to do it.  And I feel anxious about my decision every day.
We all suffer from our personal self-doubts, and they can be exhausting.  Society has preconceptions and biases, but if you do something like this at the age of fifty or beyond, hopefully you have the maturity to move beyond the anxieties.
Your book "Ancient Wisdom: Emerging Artist – The Business Plan (Not Just) For The Mature Artist" is a guide for mature artists to discover their potential. Could you give us your top tips on how to become a professional artist at a later age?
The idea behind Ancient Wisdom was to explore the thinking that goes into the decision to seriously pursue a creative lifestyle.  I wish I could have found better words than business plan, career, and professional.
Being an artist isn't a career in the way banking is a career…thinking that way, you get trapped in accomplishments and failures instead of painting.
The best tip I can give is to learn to be both courageous and resilient.  Not everyone will like what you do, and the truth is, being an artist is hard.
It takes time to achieve the level of expertise needed to compete today (something I underestimated), and the competition for visibility is fierce (not to mention the rapidly changing art scene).
One day you are hot, and the next no one remembers your name.  So there has to be some other motivation other than the external desire to be "an artist."
That motivation has to come from somewhere deep inside, which is the primary focus in my book.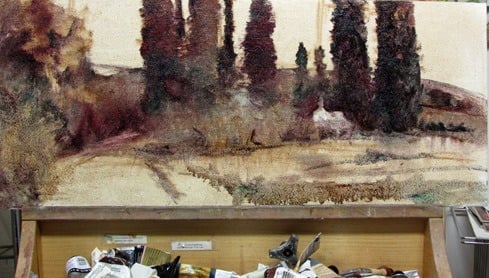 Of course, there are tips everyone talks about…the importance of technique and skill, painting from life, believing in your "voice."
Skill absolutely matters. So start early.
Travel to places that inspire you.
Work hard but enjoy your time behind the easel.
Find a good teacher, and focus on the type of painting you want to do.
Be realistic about what you can accomplish, and make up for lost time with passion and dedication.
Quick Questions Round
The person who most inspired you…That's a difficult question.  I am deeply influenced by many artistic eras for different reasons.  I think when work of art speaks to you, it's best if you listen to what it says.
I can't paint without…a hand mirror to look at the work in reverse.
The best art exhibition I visited in 2015…an online exhibition, the Prix de West, hosted by the National Cowboy and Western Heritage Museum.
My most inspiring location is…wherever I happen to be painting
Feeling inspired? Why not start your artistic journey and take part in our Big Painting Competition? To find out more click here. If you'd like to find our more about our inspiring Italian painting holidays download our brochure!
About Sue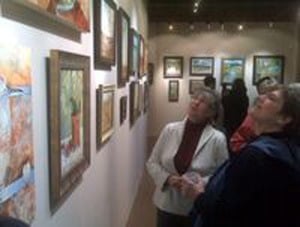 Born in 1948, Smith is a California native now living in Oregon.  She the author the ancient artist blog and has participated in numerous national juried exhibitions, and her work is in private collections in the United States and Canada. Sue is influenced by Hans Hofmann, particularly his theories behind the use of colour and the idea that space is enlivened by tension, otherwise known as push and pull. She believes a painting should ignite curiosity, expressing things sensed and not seen which is what Hans Hofmann thought was the highest goal of the artist.