We spoke to bestselling novelist Alice Peterson, who joined a Flavours Pilates holiday in Puglia, which also includes two cooking lessons. Alice's new book, If You Were Here, is published on 22 August.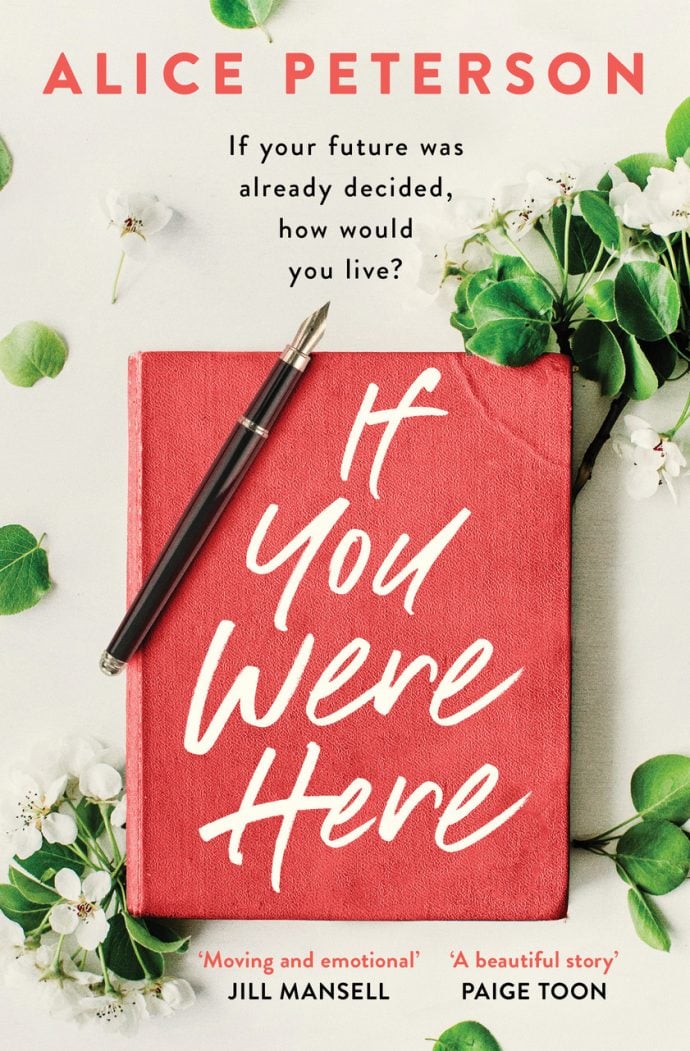 What made you pick a Flavours holiday in Puglia?
I did a fair bit of research online, and there were lots of great reviews. I knew I wanted to see somewhere a bit different, and I watched a video of Nicki Chapman on the BBC Holiday programme on a Flavours holidays in Puglia, which seemed so fun, and the villa looked beautiful. I usually go away with my cousin or friends, but I wanted to be braver and go alone, as I thought it would be lovely to meet other people.
What did you think of the villa and the location?
I thought the villa was fantastic. Flavours clearly has great taste! It felt like a home, not like a hotel. I love hotels, but I always want a hotel with lots of character, and often they don't have that. The atmosphere was cosy and relaxed. There was also a lovely swimming pool. The one thing I particularly remember is waking up and walking over to the main house in my pyjamas to make myself a cup of coffee, classical music playing in the background, which felt so civilised. I kept thinking, why don't I do this at home!
What were your days like?
We would do an hour of Pilates before breakfast. I loved it because I've had rheumatoid arthritis since I was 18 (I'm now 45) so gentle stretching and exercise is important. I do it at home, too.
Our teacher Diane Parrilla was excellent. We all had different issues with our bodies. One of us had a back problem, one had a dodgy hip. We all joked about it, but Diane didn't make anybody feel excluded, no matter the level. She was professional and a lot of fun too; I felt in safe hands.
For the cooking the chef was Antonio, who was charming. We cooked delicious regional dishes. I ate like a queen all week – I remember some lovely lemon puddings. And the Prosecco came out at about quarter past 12, perfect when the only thing you have to do in the afternoon is read by the pool…
When we weren't lazing about at the villa we took trips to local towns for some shopping and sightseeing, and we ate out a few times.
Would you go back and try a different Flavours activity holiday?
Yes. I know there's a photography one, which I'm interested in. The lovely thing about Flavours is that you know you're going to get a beautiful villa, you'll meet new people, and be thoroughly spoilt. There's nothing not to love, really.
Where do you normally go on holiday?
I'm not a great traveller, but I do think it's important to get a change of scene. What's that quote, 'travel is the only thing you can spend money on but it makes you richer'. It's good to simply experience something a little different. Holidays get you out of your routine. Because I work on my own from home, it's especially nice to get away for a break.
Have you ever had inspiration for a story while travelling?
I once took a trip to New York, and thought, I know I'm going to be inspired, and NOTHING happened! I think ideas appear completely randomly. You could be at a petrol station and somebody filling up next to you might say something that just sparks an idea that would make an amazing book. But holidays do change your focus – and that can be inspiring. I think you shouldn't ever say no to anything; just go along and see what it brings.
What is your new book about?
Every book I write is an emotional rollercoaster, readers often berating me for making them cry on public transport. I am drawn to stories that shine a light on living with disability, especially since my life changed overnight when I was diagnosed with rheumatoid arthritis. If You Were Here was inspired by a woman, in her 50s, who has Huntington's disease (HD), an inherited condition that damages nerve cells in the brain. If one of your parents has it, you have a 50% chance of inheriting the gene too. This contact wanted me to raise awareness of HD, but what gripped me the most was that she hadn't yet told her son that he was at risk. I've discovered secrecy and HD often go together.
So, I wrote about a young woman, in her 20s and engaged, who has just found out from her grandmother that her mother had HD and she is at risk. How would you react? How would your fiancé react? And how would you be able to heal the rift if something so significant had been kept from you? Would you opt to have a blood test to discover if you had the gene or not? Do we want to know our future, or is it best to live in the moment? There is also, at the heart of the novel, a 'will they, won't they' love story. And finally, it does have its funny moments! I always try and include humour, which I feel is so important in overcoming adversity.
About Alice Peterson
Alice Peterson's novels always have the feel-good factor, but she also aims to take the reader to a darker place in which characters must overcome adversity. This is partly due to Alice's own life experience of being one of the top ten junior tennis players in the country, before being diagnosed with rheumatoid arthritis, which she wrote about in her memoir Another Alice. Her novel Monday to Friday Man, has sold over 500,000 copies across all editions, and she has also written a number of novels, including Ten Years On, By My Side, the critically acclaimed A Song for Tomorrow, and One Step Closer to You, which won the Festival of Romance's Best Romantic Read 2014. If You Were Here is her latest novel, published in paperback by Simon & Schuster on 22 August 2019.
Fancy a Pilates holiday in Puglia? Click here for more info.