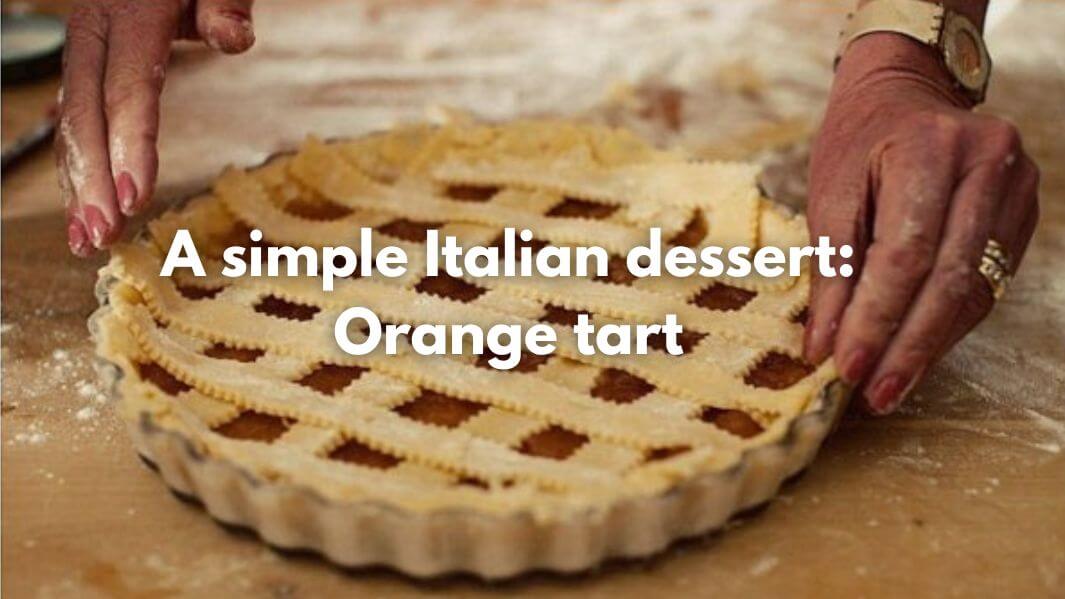 A fresh orange tart is a simple yet delicious Autumn dessert that combines a sweet shortcrust pastry with a citrus orange marmalade. This sweet marmalade tart can be kept at room temperature for 2-3 days.  A perfect addition for your afternoon tea and coffees. Certainly for those with a sweet tooth. Enjoy this dolce dessert with friends and family – Every bite is a delight!
We post new Italian recipes on our YouTube where you can follow along with one of our chefs!
Serves: 6 people
Preparation Time: 45 mins
Cooking Time: 30 mins
Ingredients
Pastry:
250g 00 flour
200g softened chopped butter
100g caster sugar
1 egg yolk
Salt
Filling:
Tip before baking
Plan ahead as you will need chill time for the pastry dough during preparation, and also for the finished tart before taking it out the dish.
Preparation
 Make a well with the flour and add the salt, egg yolk and the butter. Knead until smooth, adding a tbsp of lukewarm water.
When the flour is all combined, form a ball and allow it to sit for 30 minutes.
Split the ball into two, with the first half rolled into a circle that is large enough to cover the base and sides of the tart dish.
Place the dough, that you previously rolled, into the bottom of a tart dish that has been greased.
Spread the marmalade onto the middle of the base leaving an edge of approximately 1 cm.
With the extra dough, make strips and create a lattice finish and ensure you have enough left over to cover the edge.
Glaze with a beaten egg and bake at moderate heat (350–375 °F) (180-190°C) for 30 minutes.
Allow to cool completely before removing from the tart dish.
Serve to friends and family. You could even add an additional touch by serving the tart with some cream.
If you do enjoy this orange tart recipe, let us know by commenting below. You can try out other Italian desserts, similar to this one, like our rich orange Italian fritters.