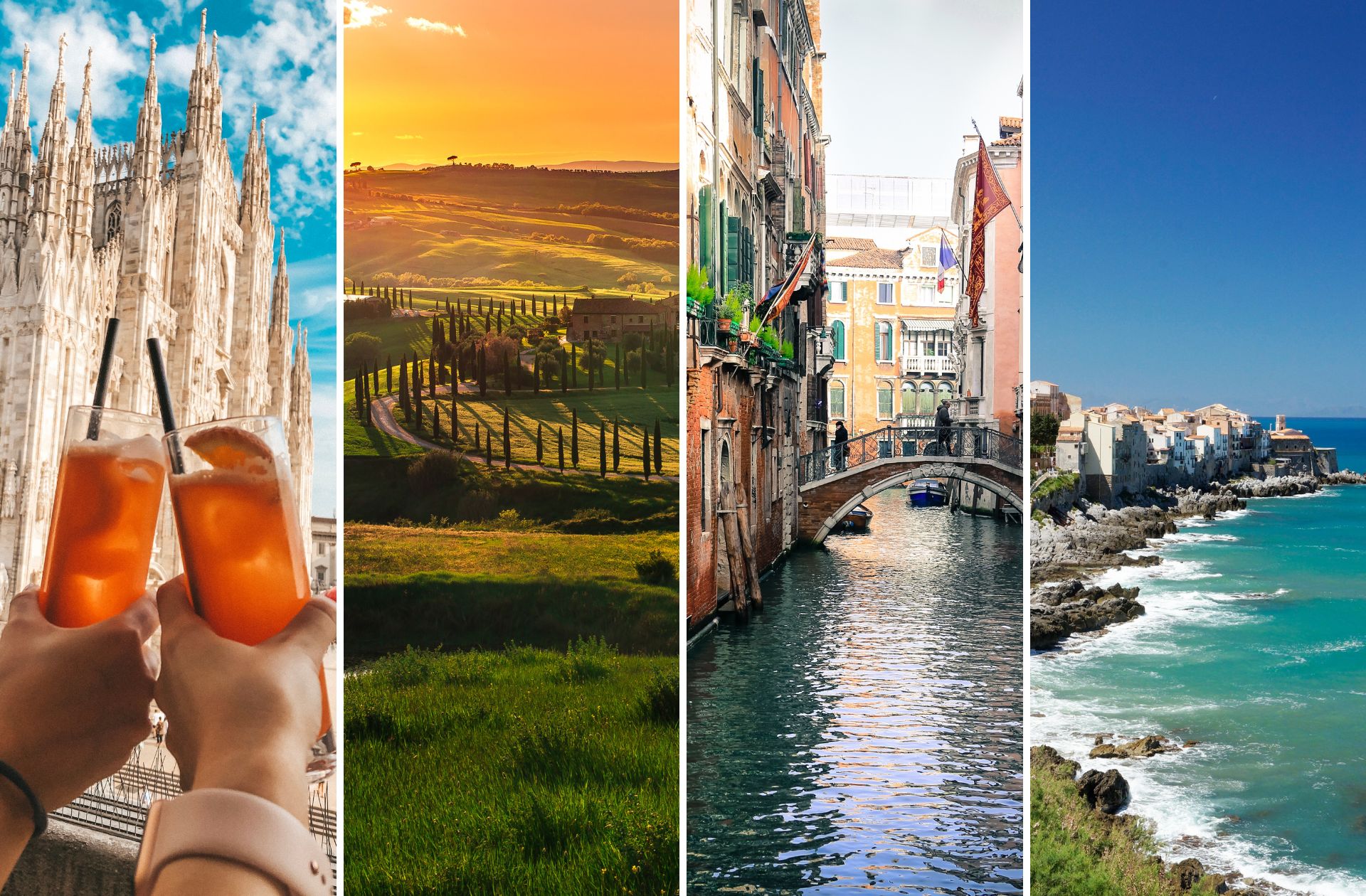 As there are 20 Italian regions, we understand the struggle of deciding on which region to travel to? With the diversity of beautiful blue seas, rolling hilltops, appetising cuisines, historic towns and stunning views all around Italy, we have put together a list of the top 5 Italian regions to visit in 2023 to make your decision making a little bit easier when planning your travels this year.
The bluest region, Puglia
Puglia is possibly the brightest and most blue region in Italy. This iconic Italian region is located in the heel of Italy and has the longest coastline of any mainland region of Italy. Only recently has Puglia become a popular holiday destination. A couple of years ago, Italians were the only Puglia visitors. During their summer holidays they would travel down to the heel to lie by the beach to have a local get-away from their hometown.
The food, history and attractive beaches of Puglia attracted people from all over the world. Puglia is one of our popular holiday destinations, especially for cooking holidays. We really don't blame our guests, the food is the best part about Puglia, with the views following very close behind!
The Dreamy Veneto
Not all Italian regions are famous for having canals, however when travelling to Veneto you will discover what it's like to live in a water city. With Venice being the city of love and luck, you will most likely experience a very upbeat atmosphere when travelling here.
Our heart skips a beat when we hear the word "Tiramisù" and thankfully Treviso is the homeland of this phenomenal dessert (AND Prosecco) so you can eat until your hearts content. Love, luck, Tiramisu and Prosecco is all we need… You can catch us in Veneto for the time being, why not join us on this holiday. This region sounds like heaven!
Of all the Italian regions, try visiting Tuscany
Where do we start with this region! The rolling hilltops, the colourful sunsets, greenery landscapes and delicious dishes. If our guests could travel to any of the Italian regions, Tuscany would be one of the top answers! Let us show you why…
Tuscany is famous for its wine production. The Tuscan wine history can be traced all the way back to the 7th century BC. Due to this, you'll spot hundreds of grape vines in Tuscany. A picture perfect spot for any artists thinking about travelling to Tuscany.
The food in Tuscany is too good to miss out on. The red sauced, meaty dishes are very popular in Tuscany such as, Potato Tortelli served with a meat sauce and Crostini Toscani, a sliced baguette topped with chopped chicken liver sauce as a spread. You can find out more about traditional Tuscan dishes by taking a cooking holiday in Tuscany.
Sicily
Sicily is its own little island off of mainland Italy. With miles of varied and beautiful coastlines, you'll always find something spectacular even if that's a seaside café or a rural Sicilian building. Sicily's coastline has a mix of sandy beaches, pebbly coves and nature reserves touched by three seas.
During your trip to Sicily, try and visit the Valley of the Temples, a very famous tourist attraction. The Valley of the Temples is an ancient classic structure site that houses some of the best-preserved Ancient Greek ruins in the world outside of Greece.
As well as touring the region, don't leave without trying Arancini, a traditional Sicilian snack. Arancini is an Italian rice ball that is stuffed with a filling of choice, coated with breadcrumbs and then deep fried. Typically, Arancini will be stuffed with cheese, meat or vegetables.
The gorgeous Lombardy region
This Italian region is located northwest of the country. The capital of Lombardy is Milan, the global capital of fashion and design, famous for high-end restaurants and historic buildings. However, if you travel to Como, you will see such a different side to the region. Going from Milan, a busy city to Como, a peaceful town by a lake can be a big difference. Lake Como is a very popular tourist spot as the lake is the third largest lake in Italy and only a 50 minute train journey from Milan, so it's very easy for tourists to travel through to Lake Como for a day.
Wherever you decide to travel is completely down to your personal preference. For example, if you enjoy your museums and historic buildings, we recommend you visit Milan, however if you prefer lakeside scenery and cafes by the water, definitely take the time to visit Lake Como. Neither place will disappoint!
Which of these Italian regions are you going to visit?
Now you know how diverse the Italian regions are, you probably have plenty of decisions to be making this year. We have activity holidays in 6 regions of Italy, have a look at our holidays to narrow down your list of Italian regions to visit.
Our 2023 holiday brochure has more information about our Italian holidays in 6 different Italian regions.