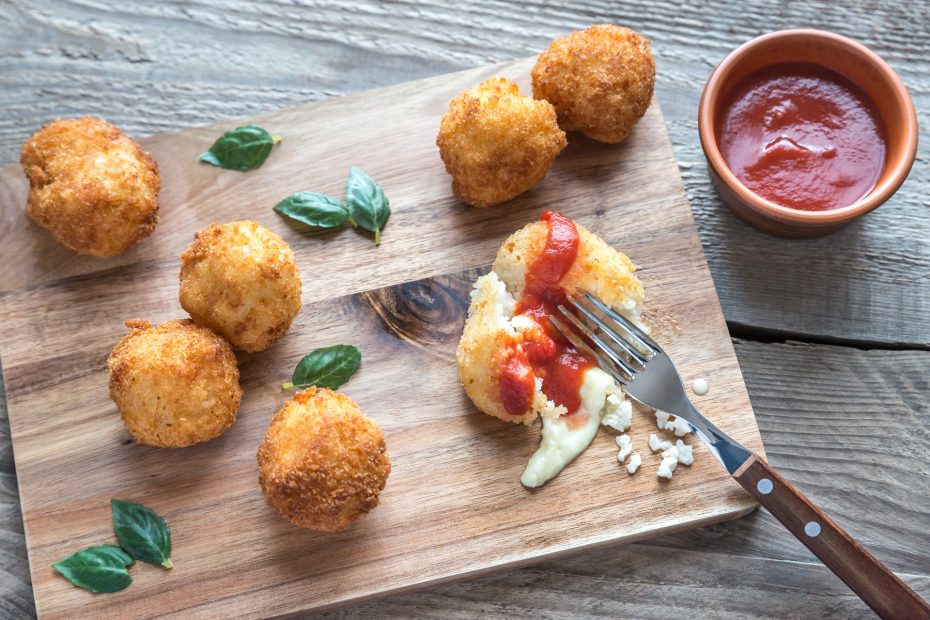 Arancini are small balls of deep fried rice, often filled with ragu, mozzarella, peas or ham. Golden and crispy on the outside, these Sicilian snacks are absolutely bursting with flavour! The name arancini actually comes from the Italian word for orange (arancia) to reflect the shape and colour of these delicious snacks once they're cooked.
You'll find these stuffed rice balls all around Sicily, with some local specialties such as those in eastern Sicily which are conical shaped to mimic Mount Etna! Arancini have been popular in Sicily since the 10th century, and are a favourite amongst Sicilians, including Inspector Montalbano!
Use the simple recipe below as a guide to making your own arancini!

Serves: 4
Preparation Time: 1 hr 15 mins
Cooking Time: 30 mins
Ingredients:
800ml vegetable stock
250g arborio rice
1/2 tbsp salt
Pinch of saffron
50g Parmesan
150g Mozzarella chopped into chunks
1 egg
170g plain flour
Instructions:
Add salt and saffron to the stock and bring to boil. Then add the rice.

Bring back to boil. Turn down the heat and simmer for about 20 minutes until stock is absorbed and rice is soft and yellow.

Add the grated Parmesan and season with salt and pepper. Leave until completely cooled down.

Beat the egg and add to rice. Then shape the mixture into 10 even balls.

Press a hole in the rice-balls, using your fingers and insert one teaspoon of Mozzarella. Pinch the rice around to enclose.

Place the breadcrumbs in a shallow bowl and cover rice-balls with the crumbs.

Heat the oil in a deep pan, no more than a third full. In batches, fry the rice balls for about 4 minutes until golden brown. Drain on kitchen towel and season with salt.
Deceptively simple to make and well worth the effort for their deliciousness! Follow along with Chef Carmela to learn how to create your own authentic Sicilian arancini!