Originally from Devon, Letitia Clark is a chef, illustrator and author who has pursued her love of food throughout her career. She trained at Leiths School of Food and Wine, before working in many London restaurants. After 10 years in London, she relocated to sunny Sardinia to write, draw and cook full-time.
Our founder, Lorne, caught up with Letitia to chat about her stunning new Italian cookbook, 'Bitter Honey', which is filled with recipes for authentic, traditional Italian food! Watch the video below to find out more!
How does a girl from Devon end up in Sardinia?
It's a good question! I was working in a restaurant in London. I'd been in London for nearly 10 years, I guess, and I always knew that I wasn't really a London person because it was never my dream to end up in London. It was getting to that point when I was like, how am I still here, 10 years later? Then I met this Sardinian guy, Luca, and we became a couple. I was talking to him about what I wanted to do and I said we could try and move down to Devon and set something up down there – a little café restaurant thing, something sort of small scale and simple. And he said, well, I think Sardinia is actually a better option maybe because the weather's better and there's more of a tourism industry, and it has a lot of the same things – unspoilt countryside, a focus on on growers and good ingredients and producers and stuff, but with better weather and the sea as well. He sold it to me. So that was how it ended up.
Did you always know you wanted to be a chef?
I always loved food and I come from a family that we all love food. My dad is a big eater more than anything. I'm not necessarily a big chef. But my grandmother was a big, big influence in my life. I think almost every chef or anyone that loves food, always has the grandmother somewhere in the background who inspires that love. My maternal grandmother was one of the best chefs I've ever met. Well, she wasn't a chef, she was a home cook. But she was one of the best cooks I've ever met. And she was very  inspirational to me. She really instilled in me that love of food and cooking. The way that she showed her love was through cooking for you. I felt that was like something that was really special. It was a way of nurturing people and making people feel good. And I really loved that aspect of cooking and I love that aspect of cooking now. And that's my favorite part of the whole thing.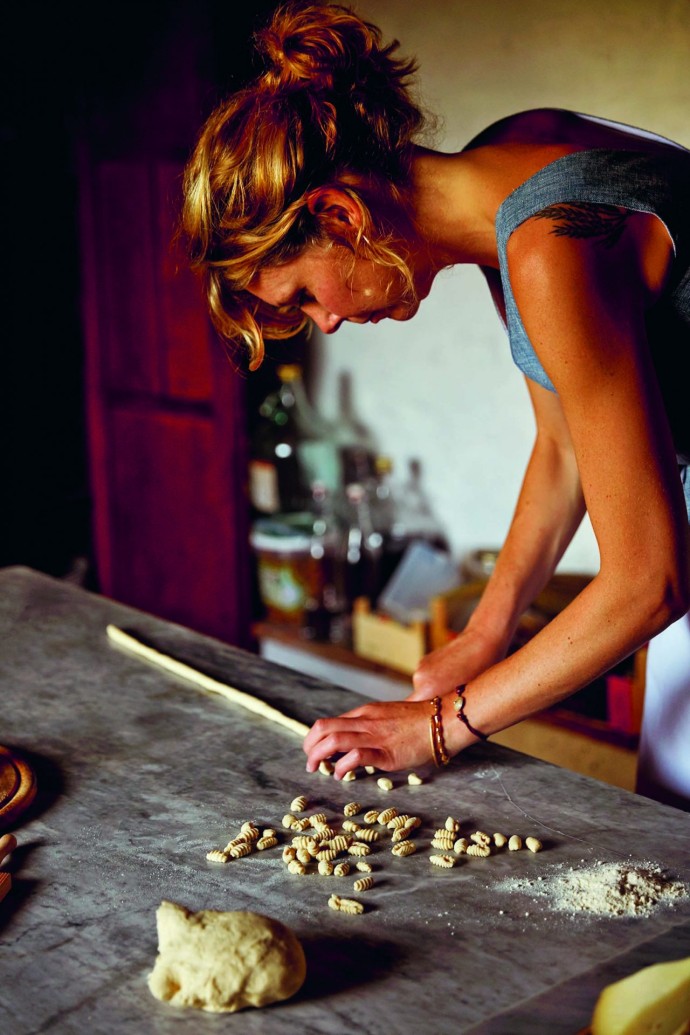 In all my years working in Italy, I've never heard of this ingredient – 'sapa' – what is it?
It's sometimes called saba as well – it's one of those things which has about a hundred different variations in its name. But it's basically the leftover grapes after they've been pressed. After you've pressed the grapes for wine, you take the leftover mush that remains, boil it down and strain it until you have this black, thick, vaguely acidic syrup. You can try and recreate it by using date molasses or grape molasses or something like that. But it's a very traditional Sardinian ingredient. It's an inheritance of poverty – making the most of something even after it's already been used. You've already pressed the grapes and then you go one step further and make another product out of what's left behind.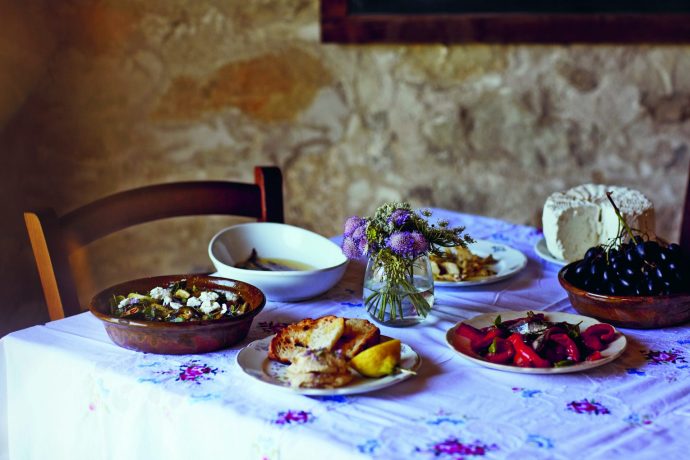 You must have lots of favourite recipes in this book, but is there one in particular that stands out?
I always pick a different one every time I'm asked this question, depending on the mood I'm in! But I guess that's a good thing because it shows that I like all of the recipes. But I think one of the recipes that I definitely am very attached to is the pasta with butter and sage, which is probably the simplest recipe. It's the recipe that taught me how to make a real pasta sauce – making that creamy emulsion to finish the pasta sauce.
I grew up in a family where my parents used to make spag bol and it was like spaghetti and then a big puddle of the bolognese sauce on the top. And I never ate pasta where everything was joined together in this really delicious finished whole. And that was something that, when I moved to Italy, it really blew my mind that you mix pasta with the sauce and it makes this amazing creamy combination. So I think that recipe really shows such a fundamental part of Italian cooking. And it's also just  very, very satisfying, very delicious, very buttery, which I love. So it's a good one for all of those things.

How did you come to come up with this lovely title 'Bitter Honey' for your Italian cookbook?
I was thinking about various different titles and I was reading a lot of literature about Sardinia. I tried to find as much as I possibly could before I started writing – an inheritance from essay writing. And I was reading a lot of stuff about these different ingredients which really classify as Sardinian cooking. So there was saffron and other ingredients like fregula, and various things like that. But then I read about this bitter honey which is very specific to Sardinia. It's a really interesting ingredient, quite rare, and quite an unusual flavour. And I just love the fact that it was an oxymoron in itself – honey is sweet, but this kind of honey is bitter.
Sardinia is a bit of a contradiction itself – there are parts of it which are paradise like and then there are parts of it that  really obviously are not. And life is like that as well. And I just liked that. So that title is just a microcosm of everything.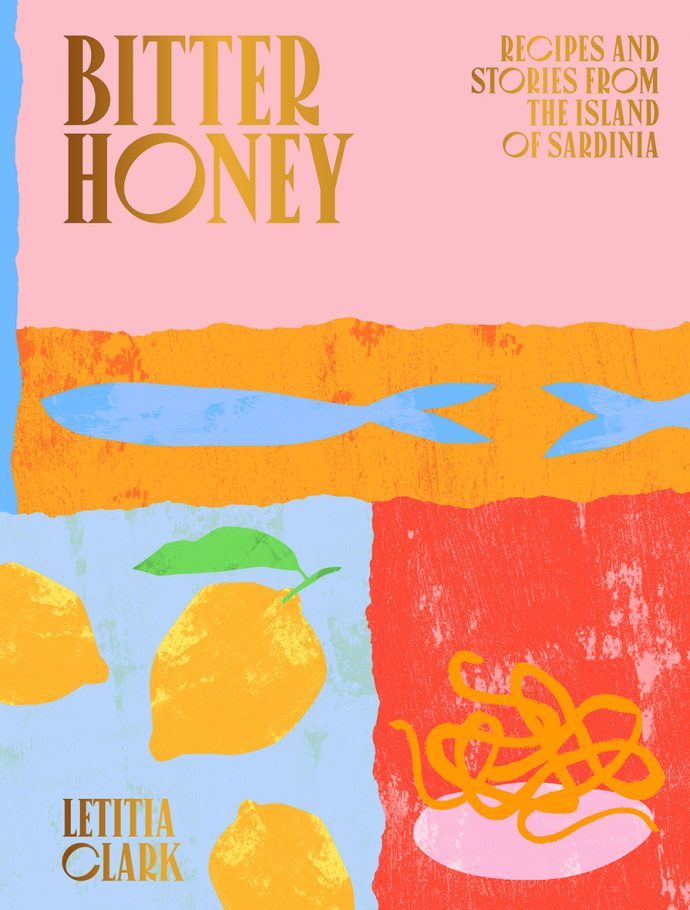 What's life been like in Sardinia in lockdown? What's been happening?
At the beginning, it was pretty strange and quite scary. The town which I used to go into every day (I teach English in the school as well) it felt really odd, especially the first few times I went into town. It's a busy everyday town with lots of people wandering around doing their shopping or going to the market or chatting. It just felt like a ghost town. There's no one around and all the shops were closed. It felt very sad. And I was really sad and worried for all of the shop owners and my little local pizzeria where I go every week – they've become my friends. And I was really concerned about their business because they have been closed for three months now.
It did feel very strange and quite sad, as I guess it has everywhere. Now it's actually really nice because the restrictions have been lifted here. Everybody is still wearing masks, but the shops are open again, businesses are open and the restaurants are open. There's quite a joyful, optimistic mood.
I went to a restaurant for the first time with my friend last weekend and we were all celebrating. The whole restaurant was like clapping and everybody was really happy. I think everyone was just really happy to get back to some semblance of normality. And it's amazing because, I mean, people are incredibly resilient and it's not like it's the first time that people have suffered hardships. I think everyone is being really supportive and optimistic, and people are making more effort to go out in restaurants and support these people.
Lastly, what's your next cookbook?
Well, I literally just got an email from my agent this morning, actually, just before we got on the Zoom call. And she said, I think we're signing a deal for a second Italian cookbook now, which will be all sweet things, based on Sardinia. So there will be some Sardinian things in there but I would like to try and do some Sicilian classics because Sicilian sweets are very famous. And then some other sweets of my own invention. But everything will be sweet because I love the Italian sweet tooth – I love the way that you eat cakes for breakfast or gelato for breakfast. I'm a big fan of sweet breakfast!
You can find out more about Letitia Clark and her book 'Bitter Honey' by visiting her website.