Adrian Wiszniewski reached global status as part of the "New Glasgow Boys" and his art can be found around the world. That's why we are delighted to have him as a new painting tutor on our painting holidays in Venice this June. We asked him to tell us a little bit more about himself – and here it is: meet our painting tutor Adrian!
Adrian, could you tell us a little bit about yourself and your painting background?
Of course. I am married with three children. I went to the Glasgow School of Art where I studied painting and have exhibited widely in places such as Australia, Japan and the USA. My art collections can be found in places such as Tate, Museum of Modern Art in New York and the Scottish Gallery of Modern Art.
What started your passion for painting?
I wanted to find a space to think and was very much inspired by encyclopaedias, comics and films.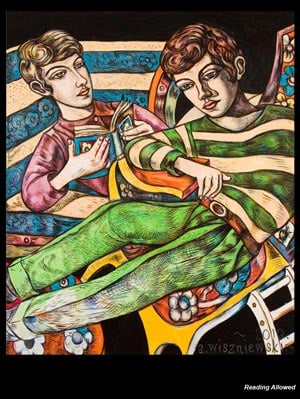 What are your three favourite things about our painting holidays?
One of my favourite things is meeting interesting people with stories to tell. For me, teaching is a form of communication, so that's another thing I really enjoy about the holidays. And, of course, I find discovering and exploring new cultures very inspiring.
Talking about inspiring – what's the most inspiring Flavours' destination?
To be honest, they are all extremely interesting. Inspired by history, art and people, each destination is rich in all these aspects and makes them fantastic painting locations.

Why would you encourage people to join us in Italy?
Because, it's a great way to create your own memories and share an experience with others. Also, going abroad to paint you will learn to see with fresh eyes and new perspectives.
Finally, how would you summarise a painting holiday in Italy?
The world is an amazing place, shaped by amazing people through history. A painting holiday is the best combination of relaxation, life affirming, engagement and visual and mental refreshment
Do you want to find out more about our Italian painting holidays in Venice? To find out more about our dates and availability click here or contact us today!