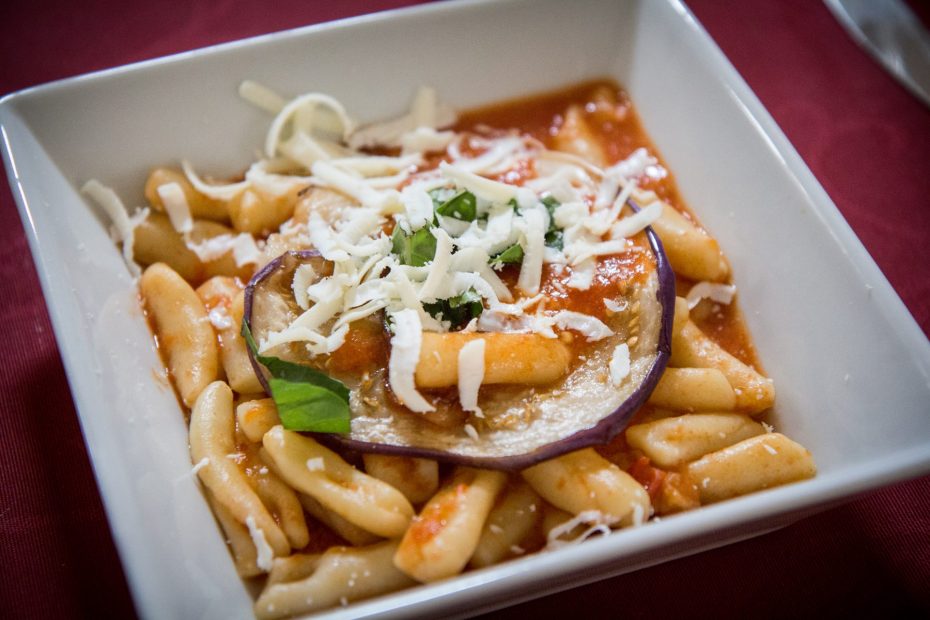 A traditional Sicilian dish, pasta alla Norma is an aubergine and pasta dish with a rich tomato sauce. Despite being an incredibly simple dish with just a few ingredients, it makes for a hearty meal – particularly in autumn when aubergine is in season!
Originally, this recipe is from Catania and gets its name from one of Vincenzo Bellini's most famous operas – Norma. According to the story, a Sicilian playwright took a bite of this dish and exclaimed "This is a true Norma!" – comparing it to Bellini's Norma, which was regarded as an example of operatic perfection.

We hope you enjoy this satisfying Sicilian recipe with chef Carmela. Inspired to learn more traditional Sicilian recipes? Check out our online cooking classes!
Serves: 2
Preparation Time: 40 mins
Cooking Time: 20 mins
Ingredients:
175g Pasta (homemade or store bought)
1 large aubergine
20 cherry tomatoes approx. (cut in half)
2 cloves of garlic cloves (peeled, lightly crushed)
Basil leaves
50g fresh ricotta salata (grated)
Olive oil
Salt (to taste)
Instructions:
Preheat the oven to 180°C and lay out the cherry tomatoes on a baking tray. Liberally drizzle the tomatoes with olive oil, and season with salt.

When the tomatoes are nicely roasted, remove from the oven and place in a saucepan, blend.

Add the garlic and gently simmer for 20 mins.

Discard the garlic from the sauce, and add the basil.

Slice the aubergine into small cubes and fry in olive oil on a medium heat. Turn the aubergine to ensure they are nicely browned all over and lay to drain on paper towels.

Boil a large pot of salted water for the pasta and cook until pasta is "al dente".

Drain the pasta and place in a serving dish. Stir the tomato sauce through and add the aubergines. (If the sauce is too thin, add a little of the pasta cooking water and a drizzle of olive oil to loosen.)

Top with the grated ricotta and shredded basil leaves.

Season to taste with salt and pepper and enjoy!
Watch the video below to see our chef, Carmela, demonstrating her recipe for the best Pasta Alla Norma. Buon Appetito!