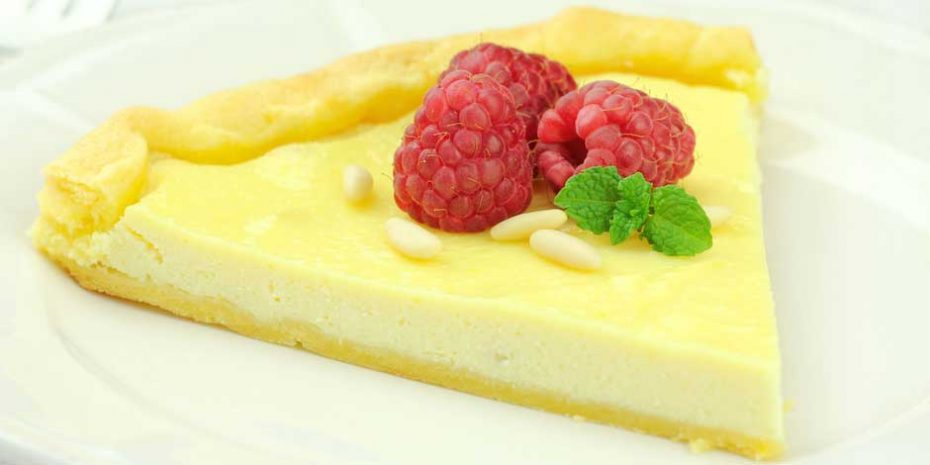 Serves: 10
Preparation Time: 10 mins
Cooking Time: 40 mins
Ingredients:
250g plain
flour 55g
caster sugar
a pinch of salt
115g unsalted butter
4tbsp dry sherry
45g candied peel
20g chocolate
2 egg yolks
150g caster sugar
rind of half a lemon very finely chopped
500g fresh ricotta cheese
Instructions:
Sieve the flour, sugar and salt together and add the butter (cut into small pieces) and mix with your fingertips until the texture is like breadcrumbs. Add the sherry and lightly mix to form a dough. Cover and put in the fridge for at least an hour.

Chop the candied peel and chocolate into very small pieces.

Beat the egg yolks with the sugar until creamy and then add the chopped lemon zest. Then beat the ricotta until light and add to the egg mixture. Finally add in the candied peel.

Preheat the oven to 190 degrees. Roll out the pastry and line the bottom and sides of a cake tin with three quarters of the pastry. Pour in the ricotta mixture and spread it evenly.

Roll out the remaining pastry and cut into strips that are about 2cm wide and make a lattice on top of the tart.

Put in the oven and bake until the top starts to brown, about 30-40 minutes.

Allow the tart to cool before serving, it is best served cold.
Buona Pasqua! Happy Easter! 
This Sicilian Ricotta Tart is delicious served with a strong Italian coffee and is a great example of Sicily's wonderful desserts! For more Sicilian recipes, why not join us on our cookery holidays this spring? You can check
dates & availability
here or simply
contact a member of our travel team
today!