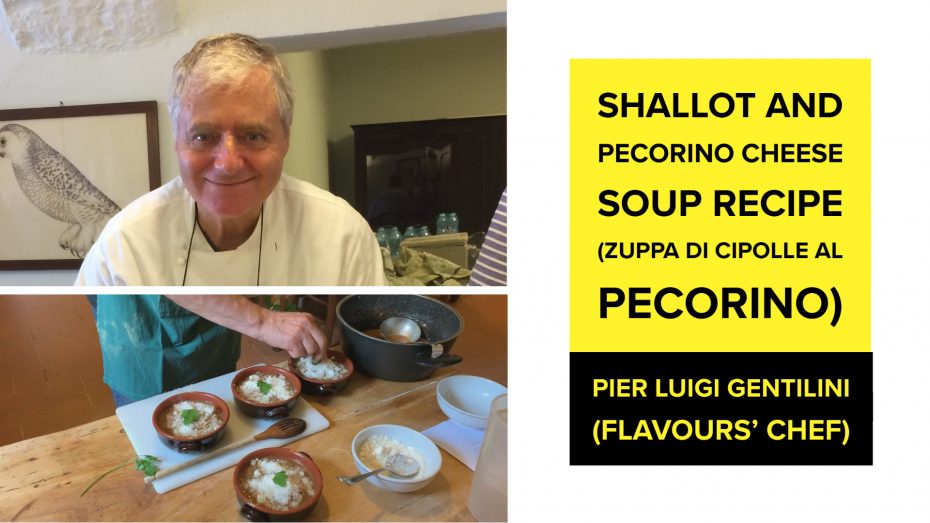 When the weather is less than ideal, there's nothing better than warming yourself up with a big, comforting bowl of soup – and this soup is one of the best comfort foods you can have! With its combination of the sweet shallots, the saltiness of the parma ham, and the creamy, melted cheeses, a bowl of will satisfy all your cravings. The layers of toasted sourdough, onion and gooey cheese creates both an incredibly textured meal and an absolute explosion of taste. This makes this soup super versatile – perfect for a dinner party, as well as a midweek comfort food!


Serves: 4
Preparation Time: 30 mins
Cooking Time: 1 hr 30 mins
Ingredients:
600g shallots
100g pecorino cheese, cubed
40g 00 flour
80g parma ham
50g parmigiano reggiano cheese, grated
4 slices of sourdough bread, toasted
1 litre vegetable broth (store bought or homemade)
1 bay leaf
1 cup Marsala wine
100ml extra virgin olive oil
Salt and pepper, to taste
Instructions:
Peel the shallots and finely slice them. Keep to the side.

Place olive oil in a large, heavy bottomed pot over medium heat. Add the parma ham and fry off.

After a few minutes, add the shallots into the pot.

Once the shallots have softened and turned golden, add the marsala wine. Cook, stirring, for 2 minutes until some of the wine has evaporated.

Add 1 litre of vegetable stock, reduce heat to low and let simmer for 1 hour.

Whilst the soup is simmering, place 40g '00' flour in an oven-proof dish. Heat oven to 180°C and cook flour until it turns golden.

After the soup has simmered for 1 hour, add the cooked flour and stir to combine.

Place 1 slice of toasted sourdough bread in each of your oven-proof soup bowls, then top with the cubed pecorino cheese.

Ladle your soup on top of the bread and cheese, making sure it is covered. Top with parmesan and parsley, then place in the oven at 180°C for 10 minutes until the cheese melts and the soup is bubbling. Serve.
Buon Appetito! Our chef Pier Luigi Gentilini has made a video demonstrating the above recipe! You can learn cooking Italian recipes first hand from Pier Luigi on our
cooking holidays in Tuscany
 and
Bologna
.