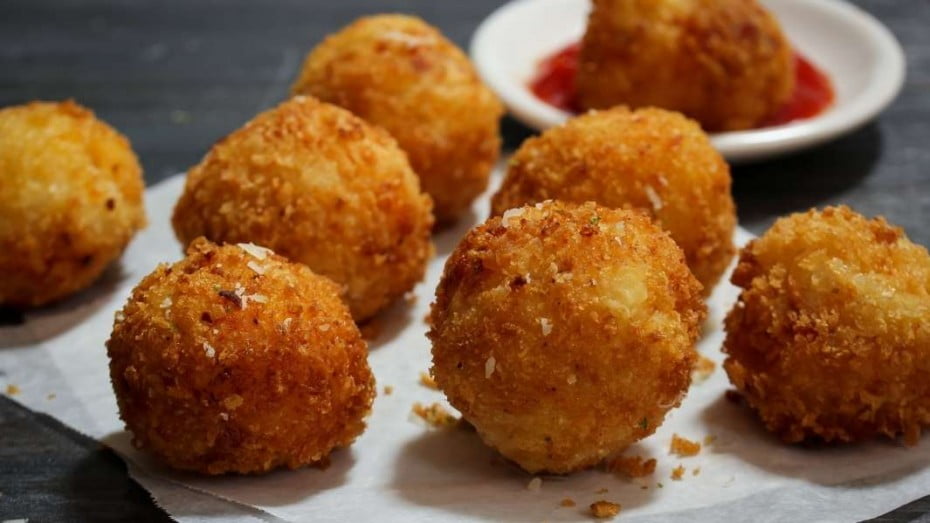 How to make Smoked Haddock Croquettes
The key to minimising Christmas dinner stress is to prep as much as you can in advance, and we love this easy smoked haddock recipe from super-talented chef Jilly McCord (who you may remember from MasterChef from 2019). The mixture for these delicious smoked haddock croquettes can be made up to a day in advance, and can also be frozen and used again in the future if you make a bigger batch.
Serves: 4
Preparation Time: 10 mins
Cooking Time: 50 mins
Ingredients:
1 un-dyed smoked haddock fillets
1 bay leaf (optional)
300ml of milk
50g of unsalted butter
75g of plain flour
60g of Parmesan, freshly grated
½ teaspoon of English mustard
1 egg yolks
1 egg
plain flour
50g of Panko breadcrumbs
vegetable oil, for deep frying
Instructions:
Add the smoked haddock fillet to a saute pan and cover with the milk. Add the bay leaf and
some black pepper. Place the lid on the pan and bring to a gentle simmer. Cook for 4-5 minutes
or until the fish is just cooked (it will be cooked again a little, so better to be under than over)

Once the fish is cooked, remove it from the milk and keep aside. Reserve the milk and take a
fresh saucepan. Add the butter and flour to the pan and use a whisk to make a thick roux. Now
add the reserved milk little by little until you have a thick mixture (this should be like a thick
mashed potato). Add the cheese and mustard, cook until melted, and season to taste.

Remove from the heat and let the mixture cool a little. Now add the egg yolk and whisk into the
mixture. Add the flaked fish into the mixture in smallish flakes and combine gently. Put into a
tupperware and place in the fridge to firm up (at least an hour).

Once the mixture has chilled, shape into croquette shapes – either into small sausages or balls.

Take 3 bowls and place plain flour in one, whisked egg in another and the panko breadcrumbs in
the final one. Take each of the croquettes and dip into each of the three bowls – flour, egg,
breadcrumbs.

To cook the croquettes, place around 500ml of vegetable of sunflower oil in a pan (you want the
oil to be about a third of the way up the pan. Heat the oil until it reaches 180C. Cook the croquettes in batches, be careful to monitor the temperature of the oil so that it does not get too hot. The croquettes should come out golden brown.
Enjoyed smoked haddock croquettes?
Join our amazing chefs on their on-demand & online cooking classes, where you can cook along with them and make more delicious dishes. If you're looking for recipe ideas why not check out our recipe blog, our simple sea bream recipe is always popular.