Our short break cookery courses in Tuscany run March to May, and September to October. Our 4 day/3 night breaks to Tuscany give you the chance to discover the speciality dishes of the region and learn more about its rich cultural heritage. Be taken away by the stunning beauty of Tuscany's rolling hills and medieval towns. Spend a day exploring Tuscany's capital, Florence, wandering through food markets before having lunch at a local trattoria.
Dates and Availability
| Date | Price From | Availability | Enquiry | Booking |
| --- | --- | --- | --- | --- |
| 23rd March 2018 | £899 | Available | Enquire » | |
| 06th April 2018 | £899 | Last Room | Enquire » | |
| 27th April 2018 | £899 | Last Room | Enquire » | |
| 05th May 2018 | £899 | Only 2 Rooms Left | Enquire » | |
| 09th May 2018 | £899 | Available | Enquire » | |
| 12th May 2018 | £899 | Available | Enquire » | |
| 16th May 2018 | £899 | Only 2 Rooms Left | Enquire » | |
The whole experience was fab. So well organised. All of the people from Flavours and the other guests were so friendly. I actually felt I learnt a lot more than expected.
At a Glance
Villas surrounded by rolling hills and olive groves.
Cooking classes and learn how to cook delicious, authentic Tuscan dishes.
Day trips exploring some of Italy's most historic and beautiful towns, including Florence.
Explore the famous markets of Florence and indulge in a private wine tasting.
Your Holiday Price Includes
No Single Supplement
3 cookery lessons with our Italian chef to learn Tuscan dishes
Visit to Florence food market with lunch.
Private wine tasting at local winery.
All meals including wines.
Where you're going to stay
Decorated in a traditional Tuscan palette, La Frasca combines an authentic farmhouse feel with modern features. La Frasca is the perfect location for a relaxing Italian cookery course. With its large gardens, overlooking the 16 hectares of vineyards, La Frasca is the perfect place for al fresco dining. The villa is situated near Florence, where you can visit a local food market and wander the old streets of the city. View our photo gallery to see more of your cooking venue.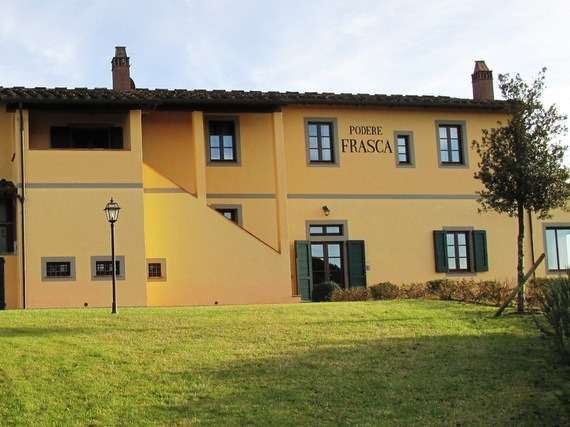 View what to expect from your cooking holiday
Rich in culture, art, and food, Tuscany is the perfect place to experience Italy and its fabulous cuisine. Watch our video which gives you a flavour of what to expect on cooking holiday in Tuscany. Still want to find out more? Why not read our interview with solo travel expert Kat Burrington who talks about her Flavours holiday in Tuscany.
Discover authentic Tuscany
Tuscan food is based on three simple principles: local, seasonal, and delicious. Local produce used in typical Tuscan cuisine adds a real freshness to the dishes. So, why not try a classic 'Bistecca alla Fiorentina', a traditional Tuscan T-bone steak washed down with a good Chianti, the famous wine of the region. Try some more wine on a private tasting at a local winery. Would you like to find out more? Make an enquiry here >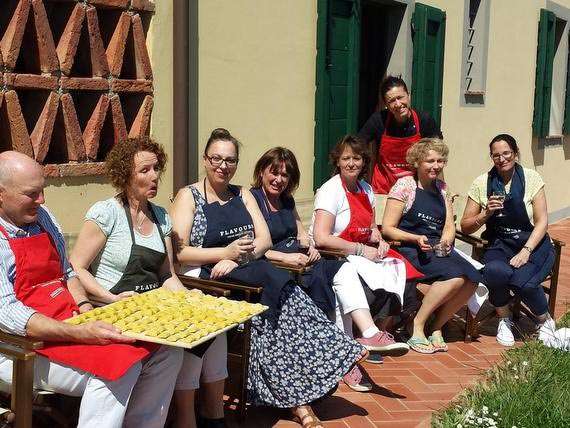 Still unsure? Look at some pictures our guests have taken on their holiday!
Our guest photo gallery will give you a flavour of our authentic cooking holidays - from inspiring Italian cookery lessons to relaxing wine evenings al fresco amongst like-minded people - here is what you can expect from your holiday.