We asked Cathy from Destination is Italy  the top 10 best dishes you should definitely try when you're in Tuscany.
Italian food is well known all over the world, and for very good reason, the taste is a burst of delight in your mouth.  Every region in Italy is known for different foods and Tuscany is no different.
Bistecca alla Fioretina – A Porterhouse steak, grilled rare over wood fire.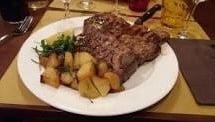 I would have to say that this is the number 1 known dish in Tuscany, they are proud of this dish and for good reason. This meal requires quite an appetite, be sure to bring it with you.
Osso Buco
Veal dish, usually made with fresh rosemary and fresh thyme, fresh Italian Parsley, sauce is made with chicken stock and poured over the veal.
Bacalia alla Livornese
Baccala is simply salted cod, made with a tomato baste type of sauce. This dish is widely appreciated and a typical recipe found in Livorno and its province.
Ribollita
Is a soup made with tomatoes, spinach, cannelloni beans along with basic spices and chicken stock.
Lampredotto
In Florence this is known as the king of all "Panini", it is a street food. Lampredotto is a kind of tripe, which is boiled in a broth containing herbs and tomatoes, then put into a bun called semelle and is topped with salsa verde and spicy extra virgin olive oil.
Pici Pasta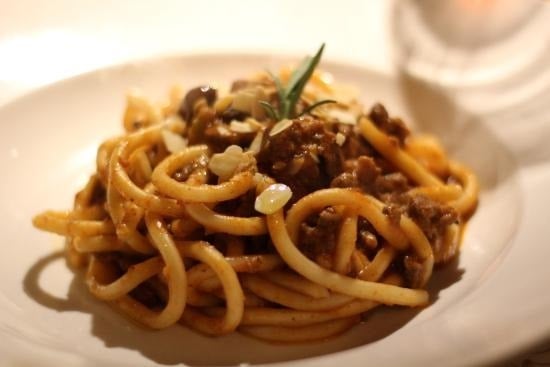 Is a thick, hand rolled pasta, and it originates in the province of Siena in Tuscany, in Montalcino it is referred to as pinci. The dough is made with flour and water. It was originally a farmers dish because they only had the basic staples in their pantry, such as flour, so they always had the ingredients to make this particular pasta.
Fiori di zucca fritti
Is fried zucchini flowers (quite delicious), this side dish is prepared by washing the zucchini flowers, and then laying them flat on a towel to dry. The batter is made by sifting the flour and adding water small amounts at a time, then add a pinch of salt and fried in Olive Oil one at a time.
Pappardelle al Cinghiale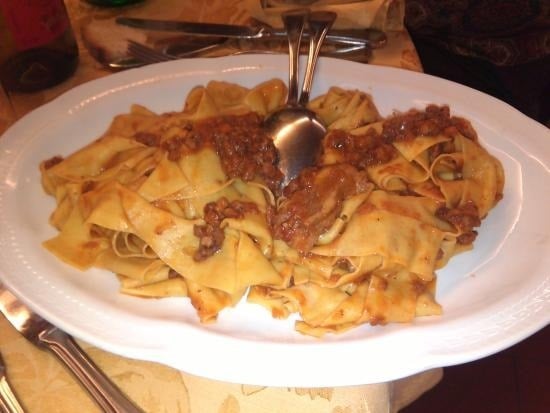 Is pure Tuscan. It's a pasta sauce made with wild boar (a type of ragu); don't let the "Wild Boar" part stop you from trying this dish. On one of my first visits many years ago to Tuscany I had this dish and immediately it was love at first taste. It is usually served with ribbon type pasta.
Spaghetti alla Pomarola
Is a simple Tomato and Basil pasta dish, even though I used the word "simple" it is beyond delicious.
Cinghiale in Umido
This is a wild boar stew, typically made with celery, carrots other spices, red wine and juniper berries. Wild boar is a staple found on many Tuscan tables.
Not only does Tuscany have beauty beyond words, but the food known in this region is beyond Deliziso.  Whether you only try a few of these dishes or if perhaps you are there long enough, and can try them all, your taste buds will forever be grateful! Buon Appetito!
Author bio:
I started travelling to Italy over 17 years ago, and it was love at first sight, taste and sound. I started my travel consulting business over 10 years ago. I specialise in Italy, my passion is Italy and for my clients to experience not just the wonderful sights there are to see in Italy, but to experience the Italian Culture. I am passionate and love what I do. I worked for a major airline for many years which has allowed me the privilege of travelling to Italy many times. I have retired from the airline industry and my focus is 100% on Destination Is Italy and my clients.