Pilates Holidays in Andalusia
Our week-long Pilates retreat in Andalusia is taught by expert instructors, qualified to teach 'Body Control' Pilates. They offer a wealth of experience and can offer advice and support to guests with a range of needs, to help you get the most out of the week.
Flavours Pilates retreats in Andalusia and elsewhere are suitable for all levels, from beginners to advanced. If you decide to join us, we will contact you before the holiday to find out about your Pilates background and medical history. With this information, your lessons can be tailor-made and provide you with the best possible Pilates instruction, as well as delicious local food and a good glass of wine or two!
Our accommodation in Andalusia is in a beautiful Il Palacete, with delightful manicured gardens and grounds.
No Single Supplement
We never charge a single room supplement.
Small & Friendly Groups
Group sizes are usually between 8 and 10 people.
2019 Dates Fully Sold Out
All Inclusive Price
All meals, drinks, restaurants, visits and transfers.
Solo Traveller Friendly
Over 80% of our guests are solo travellers.
Your Holiday Price of £1699 Includes:
Pilates lessons daily with our experienced tutors.
Private, en-suite accommodation in our Andalusia villa.
Day trips exploring splendid Granada and the Alhambra Palace, dependent on itinerary.
Relax and enjoy the beautiful hillside scenery surrounding the villa.
All meals and wine, including 2 meals at a local restaurant.
Transport throughout in private minibus.
Group transfers from Malaga airport *
* Provided you are able to meet them. Please ask for transfer times.
Villa Accommodation
Beautiful historic Il Palacete is your home for the week while you enjoy your Pilates retreat in Andalusia. Private and peaceful, it's a large country house set in dramatic hilly surrounds with wonderful views and is just 30 minutes' drive from the coast. It's the perfect spot for a Pilates holiday, with both inside and outside spaces for classes, and an elegant pool and tennis court to use while you're here.
Inside, the 15th-century villa offers a touch of grandeur; it's comfortable, and our guests quickly feel at home here. Our private chef cooks your meals when we're not dining out, and the villa offers many places to enjoy a drink before meals in its terraces and gardens. It ticks all the hallmarks of the comfort our guests have come to expect on a Flavours holiday.
Pilates in Andalusia - Itinerary
---
Day 1 (Sunday)
Our group transfer will pick you up at Malaga Airport.
Our Flavours transfer will meet you at Malaga Airport and take you to the villa for welcome drinks followed by dinner prepared by our local chef.
---
Day 2 (Monday)
Enjoy your first Pilates lessons, followed by a relaxing day.
Begin the day with an energising Pilates session with your teacher, followed by lunch. The afternoon is yours to explore the villa and grounds, before your late-afternoon Pilates lesson. Dinner is served at the villa by your chef.
---
Day 3 (Tuesday)
Pilates lessons and a relaxing excursion to a local beach.
Following Pilates and breakfast this morning, leave for local coastal village La Herradura to relax on the beach, with lunch in a typical Andalusian restaurant. Return home after lunch for your second Pilates lesson of the day. Dinner this evening is prepared by your chef in the villa.
---
Day 4 (Wednesday)
Morning Pilates followed by a day trip to Granada and the Alhambra Palace.
Today, we will visit Granada, the Moorish Jewel and visit the Alhambra Palace. We'll stop for lunch at our favourite local restaurant, with more time in the afternoon to explore this historic city. Return to the villa for dinner.
---
Day 5 (Thursday)
A morning Pilates session with time to relax at the villa before evening Pilates.
This morning, enjoy another Pilates lesson, after which you are free to relax by the pool, wander in the ornamental Moorish gardens, or enjoy the views of the hillsides and valley. Another Pilates lesson before dinner at the villa, prepared by your chef.
---
Day 6 (Friday)
Enjoy Pilates, then time at the villa before dinner at a local restaurant.
After your morning Pilates session, spend today at the villa, with time to relax by the pool or in the villa. This evening, enjoy a meal out at a local restaurant in Otivar.
---
Day 7 (Saturday)
Final Pilates lessons, plus a farewell dinner at the villa.
This morning you will have another Pilates lesson, followed by lunch. Enjoy your last afternoon relaxing at the villa before your final Pilates lesson. Gather this evening for a special farewell dinner prepared by your chef.
---
Day 8 (Sunday)
Breakfast, and group transfer back to Malaga Airport.
After breakfast and some time to relax, our transfer will collect you and take you back to Malaga Airport for your flight home.
---
* Please note the itinerary is subject to change depending on the weather.
How to Get There?
There are direct flights to Malaga from many regional airports across the UK. For each of our holidays, we provide a group transfer on arrival and departure to Malaga Airport. Our team in the office are happy to advise you on our group transfer times to help with your travel arrangements – simply contact us »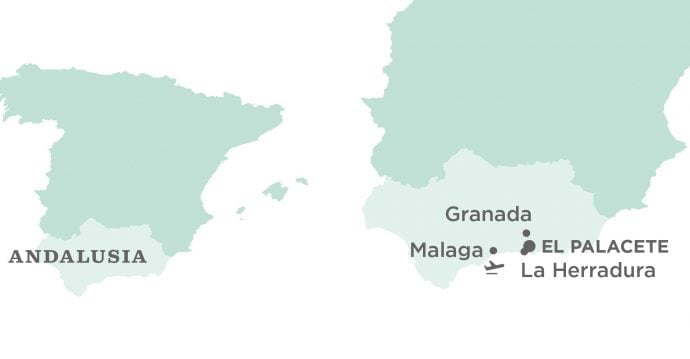 Download Our Holiday Brochure
Our brochure includes detailed holiday itineraries, dates and prices, experiences shared by fellow travellers, profiles of our team in Italy, and travel tips.
Click Here to Download Now »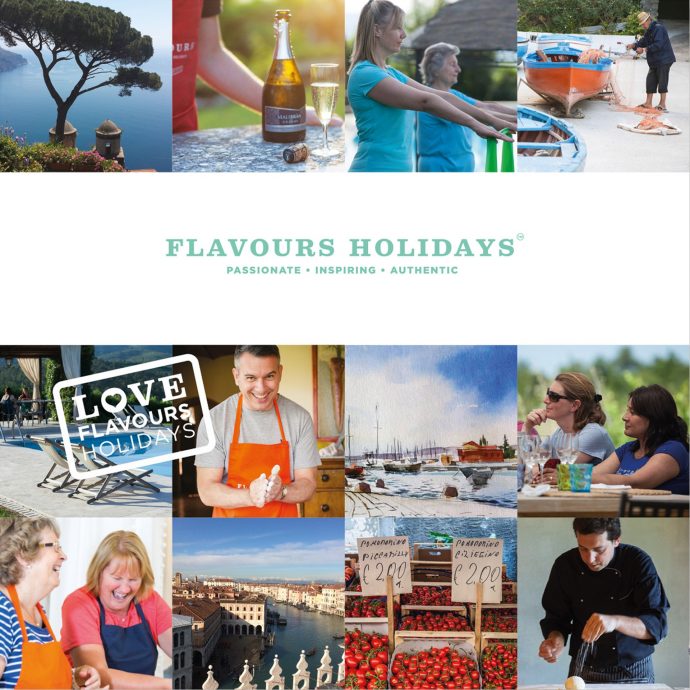 All your questions answered
For more information about Flavours Holidays: