Solo travellers make up 70% of Flavours guests, each year, which is why we are passionate about supporting and encouraging those who wish to travel alone. That's why we do the research for you! By speaking to solo travel experts and putting together helpful posts full of tips for travelling alone and the best destinations for solo travellers.
We recently caught up with Donna Armer, author of Solo in Salento. Her debut book chronicles her breaking out of a fast paced life, by moving to Otranto in Puglia and leaving her friends, family and husband behind. A captivating story of self-discovery and travel, Solo in Salento will transport you to the sunny streets of Italy and leave you feeling renewed.
We chatted with Donna to find out more about her journey as a solo traveller, and why it was so important to take this time for herself to heal and rebuild. Watch the video interview below and read on to find out more!
Could you tell us about how you ended up Solo in Salento?
Well, let's see at my age, there's a whole lot to tell about myself!
I had led a very tumultuous, fast paced life, like so many of us do, without considering my own welfare, and I had never taken any time for myself.  I just came to a point in time where it was necessary. I had to regroup. And, you know, I believe we've all felt that moment or maybe more than once in life when we think I'm just going to get in the car and drive off and never return.
And that was the point I reached, after years of catering to everyone else's wishes and needs. Whether it was in a job or a family situation or whatever, whether it was even community activities, it was "oh, yes, she will do that." So one day I just thought "no, I'm not going to do it anymore." I need to regroup and reconsider my life and how I want to live it going forward.
So that's how I wound up solo in Salento. I had visited Salento and Puglia a couple of years before and knew instantly that I had a connection with the place. So when I thought about where I would really want to go by myself, that is what came to mind. So that's why I went there.

Is Solo in Salento your first book?
Yes, it's my very first book, my debut, and I'm quite excited about it. I live in a small coastal town in South Carolina and I'm a docent at the Pat Conroy Literary Center. And I was so fortunate because I've met so many authors and people that are willing to help a new author with their books. So that's been a great thing for me. And I'm well into my second book now.
Are you able to give us a hint as to what your next books will be about?
I'm actually well into two books, but the one is a mystery. I wanted to try my hand at something different, but it also takes place in Puglia. It's called La Stella Rossa Del Marine, (the Red Starfish) which I mention in Solo in Salento. It's a piece of jewelry I bought.
The second book I'm working on is called The Night of Andrea Bocelli. And that's about a journey I took in 2015, entirely planned around seeing Andrea Bocelli in concert on his farm in Tuscany. So that was another sort of amazing adventure that I've had
Where can we find Solo in Salento?
I'm really pleased because, just recently the book has become available on Amazon UK. So I'm thrilled with that because I just I just feel like, again, there's such a connection. We traveled in the UK last year also, and it was so lovely. I found a connection even there with people that love to travel to Italy. And so we bonded over a lot of those things, which was wonderful.
People will say you're quite lucky or brave to move to Italy solo, but how did you really feel?
I was petrified. Once I set something in motion, once I made that declaration that I was going to do this, I had to do it. And I was scared to death.
Fortunately, financially, I could do this. And I chose to go so far away because I had learned through experience that if you stay close to home, people can always find you and pull you back into a place you don't want to be. So I knew that when I went three or four thousand miles away, it would be virtually impossible for anyone to pull me back into whatever mess they were dealing with. I didn't maintain contact, apart from with my husband because that was critical.
Many people were not supportive about the decision. Married people often said "oh, your husband is allowing you to do this?" And that's not it at all – we have a partnership and we have discussions about what each of us needs to maintain the relationship. I also had people that just said I had completely gone off my rocker – what was wrong with me? Was I having a midlife crisis? And, maybe I was, but it was fabulous.
Editor's Note: Download our free Solo Travel guide, which features stories from our guests and useful tips from solo travellers.
Why did you choose to move to Otranto specifically?
I chose it because of that Warrior Woman statue – she just called to me. She called on me to be brave, to have courage to stand for what I really wanted to do and believed in.
Another reason was also because it was very small and it was walled, so there was this amazing feeling of safety and protection with that huge wall (even though it fell during the massacre in 1480.) But still, I knew it was going to hold me.
And I was specifically looking for a class in mosaics and I knew that I could find them in other areas of Italy, but they were more well known areas. And I really wanted something off the beaten track. Something that wasn't filled with a lot of tourists and a lot of people coming to take a lot of classes.
I knew that, for my personality, having something to do immediately, was necessary. My husband left me there on Sunday, on Monday morning, I was in class. So I had a rhythm, I had a routine, which helped me establish myself. And staying in one place gave me the rhythm of the village, the people, the food, the sea. I mean, it was all just this melodious kind of thing that moved me through each day. So it was delightful.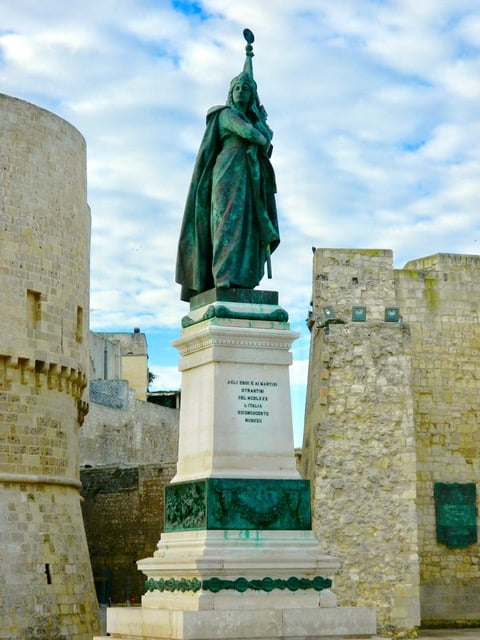 If you're inspired to explore Otranto and see Donna's Warrior Woman for yourself, you can visit Otranto on our holidays in Puglia.
You became such a part of the community that you learnt their complicated recycling system- can you share that story with us?
The trash is something that you don't think about in America. It's very easy, it's simple – it just happens! And to come across something that turned out to be such a ritual, such a huge part of life, for everyone there. It was also symbolic of learning to live in a community where we're enclosed in a little village. You lived side by side and everything that you did impacted everyone else. And so it became a ritual. It became a way of me discarding my own personal trash, but it was also about being part of the community. And I think that had such a significance on me to feel accepted, finally, because I got the trash right!
We begin to understand that we are all here for each other and to support this planet. So that's an important lesson too that I like to share. The recycling is part of caring for each other.
And you learned some Italian while you were there, by watching Italian game shows?
I love the sound of Italian. It's so melodious to my ear, anyway, it's musical. I love that every single vowel is pronounced so beautifully and there's just this wonderful flow of the language.
I really am not much better at it, although I still study it and we go almost every year. We've been going to Italy for twenty five years. For me it's about the language, the food, the people, the wine, the beautiful things we see when we see what it feels like in a village, in a life, in a community.
Did you pick up some Salento cooking tips?
I did. And I do, everywhere we go. I have to say, one of the things I did not do there was find any local person that would give me a cooking lesson!
My husband and I used to own a restaurant, so we love everything about food and cooking and wine. We were just in Sicily last year and I found this delightful young woman who found a neighbor of her mother's who taught us how to make arancini.
But in Italy, to me, going to the market and picking out your food for that day just allows you the beauty of food. You are very singular in what you're doing. It's not a case of "run to the grocery store for a week and pack everything in the car and go home and throw it in the freezer". It's intentional – I would find the freshest tomatoes or green beans or little potatoes just dug out of the earth and then choose a nice piece of fish or veal sausage to go with that.


What would you say is a must-see in Otranto?
If you've been already, you know about the mosaic floor. I hope that anyone travelling to Otranto will go and see that, as well as learn the history of the massacre in 1480.
Since living in Otranto, actually, when I travel, I look for mosaics everywhere I go now. They really demonstrate how the pieces of our lives come together. It's much like a tapestry when you weave the threads and there are a lot of knots on the back, but on the front you've got a pretty picture most of the time.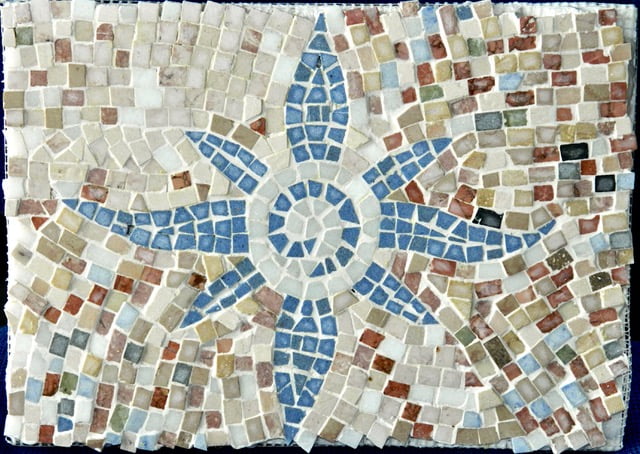 You can find out more about Donna Armer and her book 'Solo in Salento' by visiting her website.