What does Andalusia conjure up in your imagination? Sun, flamenco, sea, white villages, fiery Spanish passion, Seville oranges perhaps. This diverse region in southern Spain has long been a place for holidays with its long hot summers, beaches and delicious food.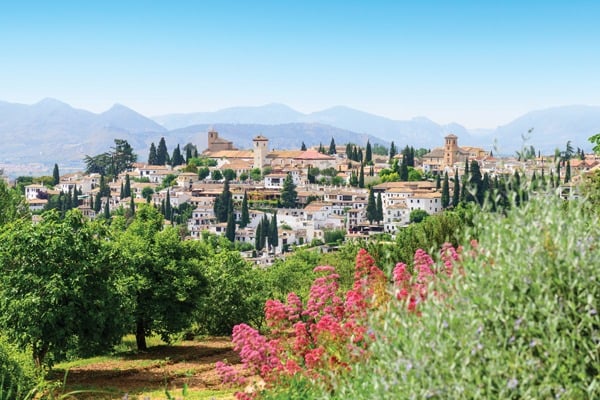 Having always based our activity holidays in Italy, we are branching out and finding a few choice hot spots around the world to take our Flavours guests to. First stop is an idyllic 15th-century palatial villa in the Andalusian countryside, just 30 minutes' drive from the coast, complete with gardens, swimming pool and tennis court.
Below we list the highlights of Andalusia:
1. The Alhambra In Andalusia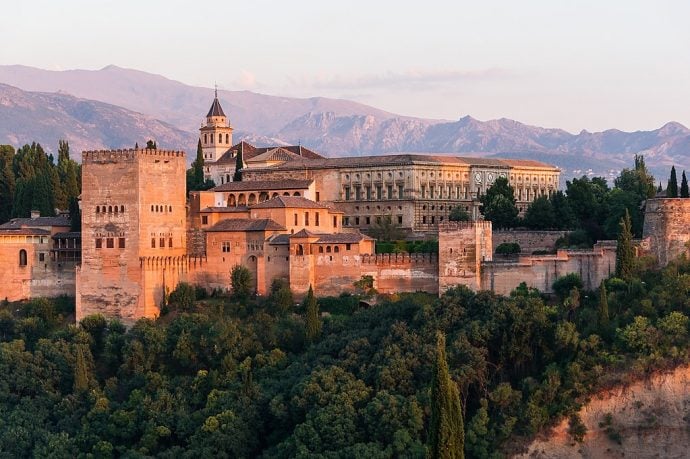 This impressive Moorish palace, with UNESCO World Heritage Status, was built in the 13th century on a Granada hilltop. After being taken over by Catholics in the 15th century, renaissance-style additions were made. Beautiful marble columns and floors are the standout feature, but the whole ornate complex is worth even a glimpse, and on closer inspection shows off intricate wood worked ceilings, art-covered walls, endless multiple archways and peaceful gardens.
2. Mosque (Mezquita), now Cathedral, of Cordoba
Another site worth fitting in is the Arabic 
mezquita
 of Cordoba. It's the world's third-largest mosque – though is now used as a Christian cathedral – and a breathtaking sea of deep rust-coloured marble and granite pillars and arches.
3. Beautiful Cities Of Cordiba, Seville and Malaga
Andalusia is a region of contrasts, with splendid cities as well as white-washed villages, coastline and mountains. The most impressive cities are Cordoba, Seville and Granada, plus Malaga old town and pretty Cadiz on the south coast.
4. Beaches On The Coast Of Andalusia

Andalusia is the only European region with both Mediterranean and Atlantic coastlines. With 460km of Mediterranean coast (Costa del Sol, Costa Tropical, Costa de Almeria) and 240km of Atlantic (Costa del la Luz), there is plenty of sandy beach to choose from, as well as busy resorts, too.
5. The Tabernas Desert
The region is home to Europe's only desert, which has stood in as the wild west in many a Hollywood Western, as well as in the epic Lawrence of Arabia. Today, some people live in cool caves carved out of the soft rock in the area.
6. Fiestas In Andalusia
Every year, Andalusia puts on 3,000 fiestas. Every town and village has its own, putting on a show to celebrate religious days, food, carnivals, mock historical battles, and more. Easter is a hugely important time in Andalusia's celebratory year, with multiple Christian feasts going on for days over the Easter period.
7. Skiing In Sierra Nevada
It's unlikely that many Brits would come here to ski – we tend to venture to Spain for its endless sun, but here in the Sierra Nevada mountain range, you'll find Europe's most southerly ski resort with peaks of 3,400 metres.
8. Seafood Paella
Seafood plays a big part in Andalusian cuisine, particularly the nearer you get to the coast. You'll find many good paella restaurants, and the delicious garlic prawn dish 
gambas ajillo
. 
Coquinas
, or clams are popular, as are the various delicious cured Iberico hams. 
Churros
 – the deep-fried doughnut-like snack eaten with hot chocolate are sold everywhere. And the chilled tomato soup, 
salmorejo
, made with oil, tomatoes and bread and served with cured ham and boiled egg is a local speciality, but the more familiar gazpacho is widely available, too.
9. The Original Tapas
Tapas is said to have originated in Andalusia. Fried squid or cuttlefish is popular, plus everyone's favourite patatas bravas, and fried whitebait flavoured with parsley.
10. Wines From Andalusia
Wine has been made here since before Roman times, and sherry – originating around Jerez – is hugely popular. Any trip to Andalusia will involve trying some of the many varieties of sherry, from pale dry 
fino
, served chilled, and 
manzanilla
 – with an almost salty hit, to richer darker varieties such as 
oloroso
 and 
amontillados
.
Would you like to come on one of our Andalusia Pilates holidays or Andalusia Painting holidays? Please feel free to chat to us, and we would be more than happy to chat to you about availability for our holidays.