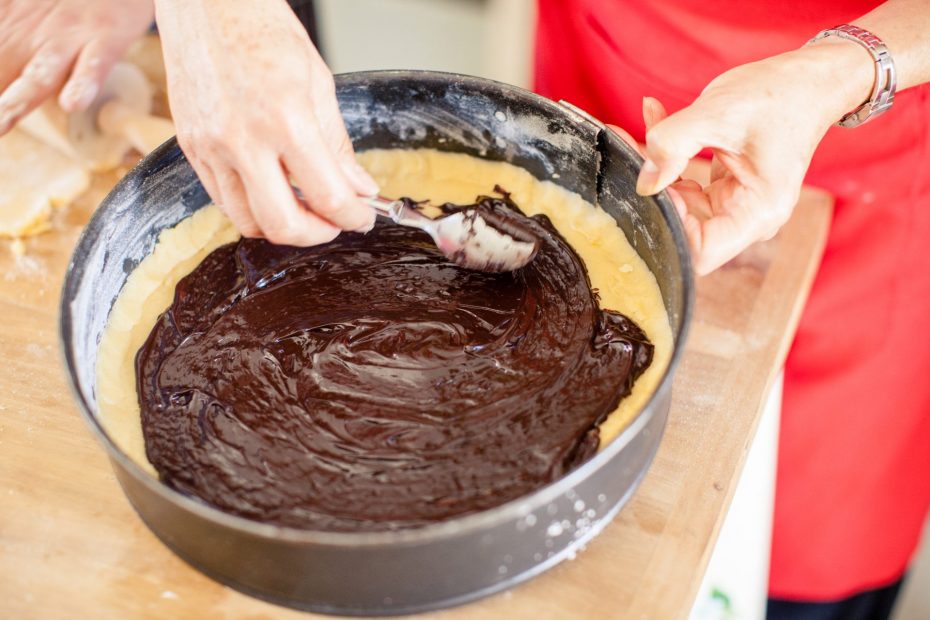 A torta nera emiliana is a traditional Italian chocolate cake from the Emilia Romagna region, consisting of a chocolate cake within a shortcrust pastry shell. It's an everyday sort of cake, not prepared for any particular special occasion but it seems to be inherently linked with nostalgia – bringing back memories of Sundays spent with family at a grandparents' house or holidays spent with loved ones.
If you're looking for dessert ideas that are slightly out of the ordinary, this Italian chocolate cake is sure to please! The combination of cocoa, toasted almonds and coffee make for a slightly bitter, but definitely decadent, chocolate cake. The cake is then surrounded by a crumbly, buttery shortcrust that melts in your mouth for the ultimate combination of creamy, chocolatey goodness.
If you love learning how to cook delicious Italian meals, make sure to check out our online cooking classes!

Serves: 8
Preparation Time: 30 mins
Cooking Time: 45 mins
Ingredients:
150g sugar
100g almonds
70g butter
40g cocoa powder
3 eggs, separated
10g instant coffee powder
For the pastry:
125g 00 flour
50g sugar
70g melted butter
2 egg yolks
Pinch of salt
Instructions:
Place almonds in an oven-proof tray and place in the oven at 180°C for 10 minutes, until toasted

Make the pastry by placing the flour, sugar, egg yolks, a pinch of salt and melted butter in a large mixing bowl.

Using a knife, mix the ingredients together until just combined then tip onto a board. Fold the ingredients together with the knife until combined and a dough is formed. Place in a bowl and put in the fridge for 10 minutes.

Remove almonds from the oven and place in a blender. Pulse until it reaches a flour-like consistency.

Place 3 egg yolks in a mixing bowl and add 100g sugar. Whisk together until creamy.

Add the cocoa, coffee powder, flour and butter to the yolk mixture. Mix until combined.

Add the almonds to the mixture and mix to combine. Put to the side.

Place 3 egg whites in a mixing bowl and add the remaining 50g of sugar. Whisk until creamy.

Add the chocolate mixture into the egg whites, and whisk until smooth.

Take your pastry and roll out to about 3mm thickness. Cut into a circle and place into the bottom of a cake tin.

Pour the chocolate mixture into the cake tin, on top of the pastry. Keep the chocolate in the centre, with the pastry coming up the sides of the cake.

Place in the oven, preheated to 175°C, for 25-30 minutes. Once cooked, remove from the tin and place on a serving dish. Dust with icing sugar and serve.