Thank you for requesting our Magazine!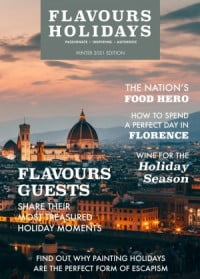 Your magazine should arrive in the next few days.
Would you prefer a PDF magazine by email? Click here » to receive a copy of our magazine delivered to you by email
If you had trouble receiving your magazine, please just give us a call at 0131 343 2500.
Interested in learning to cook or maybe you want to focus on your well-being?
Then why not try our live online cooking classes or live online Pilate classes from the comfort of your own home.
Prefer to learn at your pace then our On-Demand videos are perfect from Making Italian bread to Painting a Tuscan Landscape you won't run out of things to try.
Online Cooking Classes
Join our chefs, live from Italy and Scotland and learn traditional techniques for cooking and many regional dishes!
Online Pilates Classes
Our online Body Control Pilates lessons will help you to expand and enjoy your practice from the comfort of your own home!
On Demand Courses
On demand gives you access to our online Cooking, Painting, Pilates experiences and many more, anytime and anywhere.
Check our some of our top articles on travel, food, lifestyle and fitness. These articles will give you inspiration and ideas on new hobbies and new travel destinations and much more.