Ciao! Do you want to learn Italian in one of the world's most beautiful settings? Our inspiring language holidays in "La bella" Amalfi will offer you exactly that. Immerse yourself in the Italian culture while soaking up scenic views of the blue sea, dramatic cliffs and colourful harbours. Learn from experienced teachers on our week-long holidays and meet like-minded people you can share this unforgettable learning experience with!
I loved the food, the teaching, the laughter... They really were far more than I expected & I feel totally overwhelmed by the lovely experience.
Dates and Availability
Date
Price From
Availability
Enquiry
Booking
2018 Dates Are Sold Out
At a Glance
Learn Italian from native speakers and immerse yourself in the Italian culture.
Enjoy local dishes made by our Italian chef.
Get inspired by stunning scenery of the breathtaking Amalfi Coast.
While exploring local towns, try out your Italian in a real life settings.
Your Holiday Price Includes
No Singles Supplement
10 Italian language lessons with an experienced tutor.
All meals and wine, including 2 meals at a local restaurant.
Private, en-suite accommodation in our beautiful Amalfi villa.
Sight-seeing trips to local towns such as Ravello and Positano.
Where you're going to stay
Our idyllic language holiday venue is a renovated Saracen tower set on the dramatic cliffs of the Amalfi coast and offers breathtaking views of the stunning sea and coastlines. Built in 1532, the villa is rich in history and provides the perfect venue for an inspiring language holiday.  With a panoramic terrace furnished with tables made with Vietri ceramics and a swimming pool, you are sure to find this venue relaxing and inspiring. Typical for the Amalfi Coast, our villa comes with a moderate amount of steps.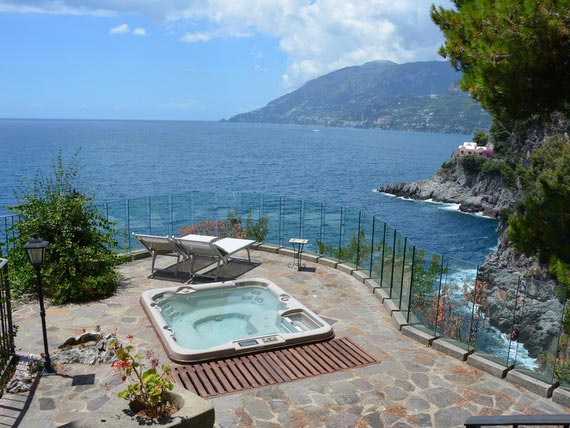 Learn Italian in inspiring surroundings
Outside of the confines of the classroom you will learn in a casual, fun atmosphere whilst taking in inspiration from the beautiful Amalfi coast, enjoying great food and great company! Guests will benefit from learning Italian on location and will receive 10 Italian language lessons. The evening Aperitivo Chat sessions over a glass of local wine are a great, relaxed way to practise your Italian with fellow guests. Now, vuoi imparare l'italiano? Do you want to learn Italian? Then find our more and simply contact us >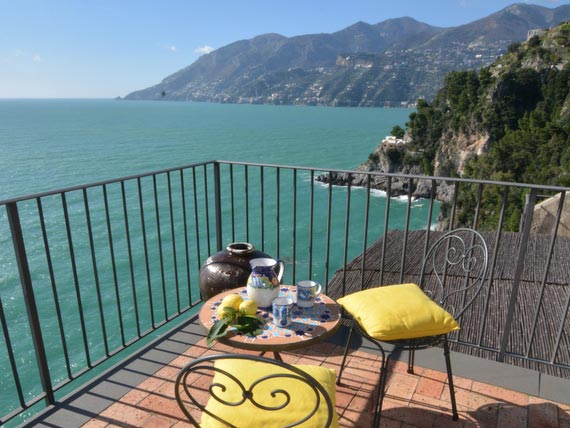 Learn from experienced Teachers
Our experienced language tutors are native Italian speakers who are passionate about the Italian language, customs and culture. Learning in small groups makes it possible to cater for individual needs – that's why we welcome beginners as well as advanced Italian speakers. Try out the skills you have learnt in real life settings and accelerate your learning process in a fun and exciting environment. Sounds like your perfect learning holidays? Then find out more and contact us today!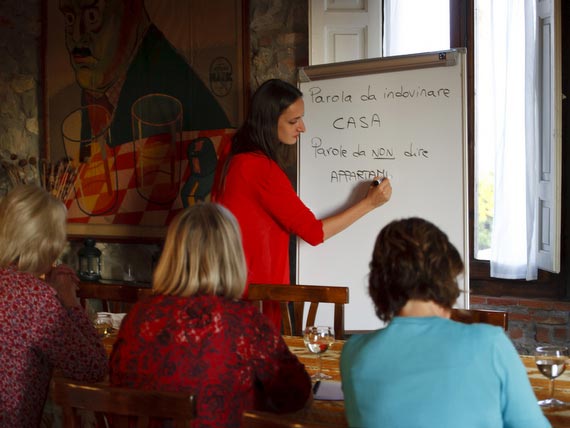 Still unsure? Look at some pictures our guests have taken on their holiday!
Take a glimpse at our guest photo gallery and see what to expect from your inspiring language holiday in Italy!