Our Pilates retreats in Amalfi offer the perfect balance between a healthy and indulgent holiday. With exercise classes and mouth-watering meals al fresco the emphasis is firmly on group fun. Relax by the pool to the sound of waves in our stunning holiday villa located on the steep cliffs of the breathtaking Amalfi Coast.
I loved every minute! The Pilates studio was absolutely fabulous and Diane pitched the classes perfectly… I came back refreshed and full of energy!
Dates and Availability
| Date | Price From | Availability | Enquiry | Booking |
| --- | --- | --- | --- | --- |
| 29th September 2018 | £1699 | Last Room | Enquire » | |
| 06th October 2018 | £1699 | Available | Enquire » | |
| 13th October 2018 | £1699 | Available | Enquire » | |
| 20th October 2018 | £1699 | Only 2 Rooms Left | Enquire » | |
At a Glance
Get toned and energized with Pilates lessons in the Amalfi sun
Be inspired by the breathtaking views of the Amalfi coast.
Enjoy authentic, delicious food in local "trattorias".
Explore the stunning towns of Positano, Amalfi and Ravello.
Your Holiday Price Includes
No Single Supplement
Pilates lessons with our experienced tutors and 2 cooking lessons.
Private, en-suite accommodation in our Amalfi villa.
Visits to local towns, eg Positano and Ravello.
All meals and wine, including 2 meals at a local restaurant.
Venues
Our Pilates villas in Amalfi are set along the coast, in between Positano and Maiori. Our beautiful venues will offer you picturesque views overseeing the stunning Amalfi coast. Set into the cliffs, they provide the perfect holiday venue for you to take in the wonderful Italian scenery. Due to the breathtaking landscape of the Amalfi coast and the fabulous location of the venue, our stunning villas comes with a moderate amount of steps. There is a swimming pool on the upper terrace as well as steps down to give you some limited access to the sea. View our photo gallery to see more of our Pilates venues.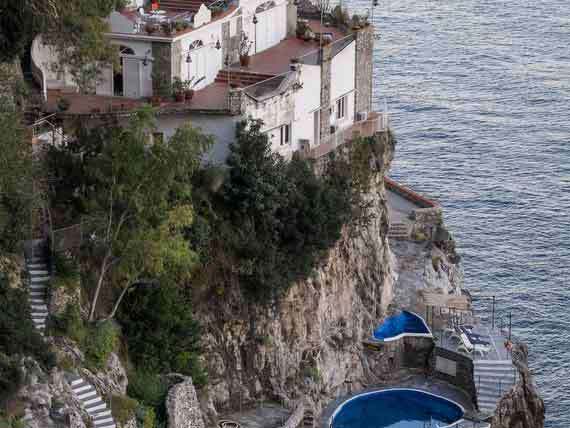 Inspiring week in Amalfi
With its breathtaking scenery, healthy food options and Italian sunshine, Amalfi is a top destination for a Pilates holiday. The stunning venue chosen for you in Amalfi will provide a wonderful holiday setting with spectacular views. Toned, trim, and relaxed? That's the way to return from an Italian Pilates holiday! Sounds like something you'd enjoy? Find out more! Simply contact us >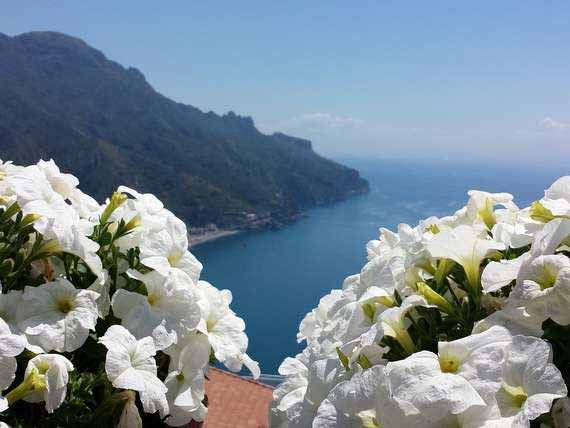 What should you bring?
With our experienced Pilates teachers on board we can guarantee that a Pilates holiday in Italy with us will be suitable for all levels – beginners as well as advanced. All of our instructors are experts in the body control technique, a method of Pilates with a huge amount of physical advantages from toning your body to combating back problems and arthritus that is suitable for any age or ability. We supply mats and so the only thing you need to bring is suitable and comfortable clothing for the course. To read more about our inspiring instructors, click here »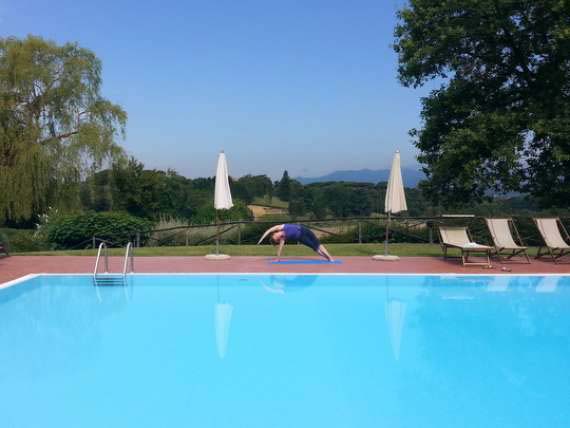 Still unsure? Look at some pictures our guests have taken on their holiday!
Our guest photo gallery will give you a flavour of your revitalising Pilates holiday in Amalfi - from the stunning "blue island" Capri to mouthwatering Italian dishes authentic to the local region - here is what you can expect from your holiday.