Our Pilates holidays in Sicily take place on a private estate. The villa dates back to 1848 and is surrounded olive and almond groves. The villa has been tastefully restored and offers a modern chic interior design blended with traditional Sicilian architecture. The pool area is the perfect place to relax and unwind. All the rooms are ensuite and there is a choice of double and twin rooms. The terrace offers a fantastic spot for al fresco dining. You are sure to find everything you need to relax at our retreat.
The Pilates teaching was very, very good and life changing for me. Just one week of very focused teaching made a big impact on my physical condition. I really enjoyed the sightseeing and outings that were arranged. We were a happy and sociable group.
Dates and Availability
Date
Price From
Availability
Enquiry
Booking
2017 Dates Are Sold Out
At a Glance
Get toned and energized with Pilates lessons under the Sicilian sun.
Learn how to cook authentic Sicilian dishes with our Italian chef.
Enjoy a private wine tasting at a local winery.
Day trips exploring some of Sicily's most historic and beautiful towns
Your Holiday Price Includes
No Single Supplement
£100 towards your flight costs.
10 Pilates lessons with our experienced tutors and 2 cooking lessons.
Private, en-suite accommodation in our beautiful Sicilian villa.
Visits to local towns, e.g. Modica & Ragusa.
All meals and wine, including 2 meals at a local restaurant.
Where you're going to stay
Our Pilates retreat in Sicily is based in a renovated villa which combines the very best of tradition Sicilian style with the comfort of modern decoration in a stunning natural location. Situated in a private own estate – it is the ideal location for a Pilates retreat under the Italian sun with lots of outdoor space to enjoy your Pilates lessons outside. All rooms in this stunning villa are ensuite and we offer the choice of twin and double rooms. View our photo gallery to see more of your Pilates venue.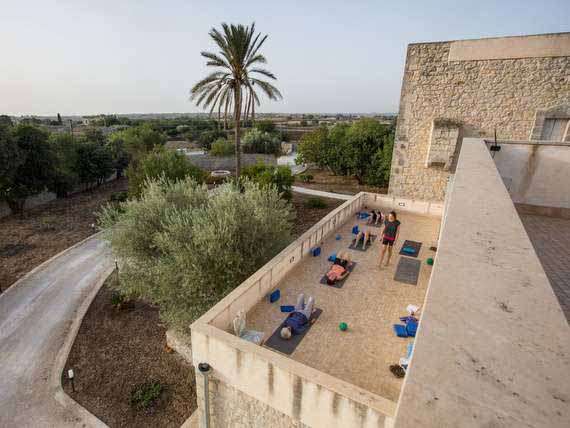 A Rejuvenating week in Sicily
Our Pilates retreat in Sicily offers a unique experience of this exotic island. What could be better than Pilates outside under the warmth of the sun? The views from our villa look out over ancient olive groves reaching the Mediterranean sea. All rooms on our holidays are ensuite and there is a choice of double and twin rooms. The terrace offers the perfect place for al fresco dining. You are sure to find this retreat rejuvenating! Sounds like something you would enjoy? Find out more! Simply contact us »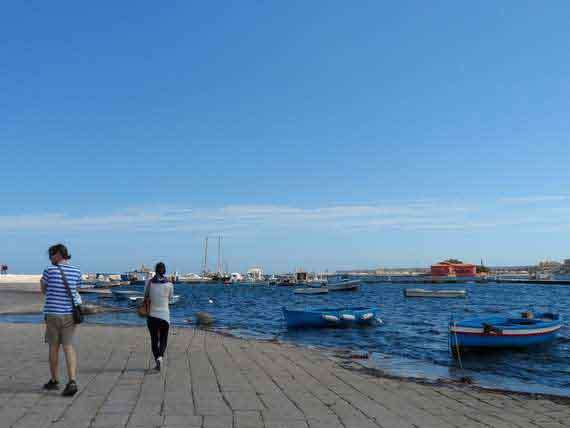 What should you bring?
Together with our highly trained Pilates experts, we have put together an active yet relaxing itinerary for our Pilates retreats in Sicily. With tailor-made classes that will match individual needs, our lessons will be great for guests of all levels and abilities. All of our instructors are experts in the Body Control technique – a method of Pilates that focuses on your core – from toning your body to combating back problems and it is suitable for any age or ability. We supply the mats so the only thing you need to bring is suitable and comfortable clothing for the course. To read more about our inspiring instructors, click here »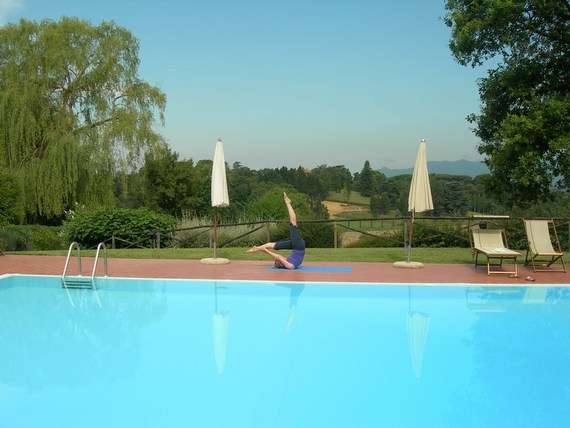 Still unsure? Look at some pictures our guests have taken on their holiday!
Our selection of images will give you a flavour of your inspiring and revitalising Pilates holiday in Italy - from breathtaking views of the sea to acres of almond groves surrounding the estate - here is what you can expect from your holiday in Sicily.